Tia Mowry Goes Off on Body-Shamers and Pregnancy Rumors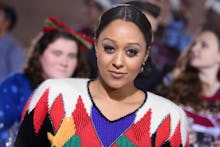 Tia Mowry has a message for everyone out there who's got something to say about her body: "I am not pregnant, I am just happy."
The former Sister, Sister actress revealed in a appearance on HuffPost Live on Friday that she's received a flood of messages on social media from fans asking if she's pregnant, and "it has to stop."
"It is a form of body shaming, I will say that, and it's pretty unfortunate," Mowry said of the ongoing pregnancy rumors.
Mowry was promoting her cooking show, Tia Mowry at Home, but she took the time to address both the pregnancy rumors and the unsolicited comments on her body that she receives on a regular basis.
"I think we live in a society that is so obsessed with being perfect," Mowry said. "Why can't we just be us? Somebody even wrote on my Instagram page today, 'Looks like you've picked up a little weight, I hope you lose it.'"
This isn't the first time that Mowry has spoken out about body-shaming and pregnancy rumor. The actress posted a message to her Instagram back in July that read "FYI. For all the people that think I'm pregnant. I'm NOT just enjoying life and eating and cooking some great food! Thanks:) again I repeat I AM NOT PREGNANT!"
"We need to be more supportive with body images, especially with women," Mowry told HuffPost Live host Nancy Redd on Friday. "All sizes are beautiful ... we all need to be a little more supportive of each other."
See Mowry's entire appearance on HuffPost Live here.
h/t Huffington Post