'Hamilton' Musical Is Doing a National Tour — Here's What We Know About Cities and Tickets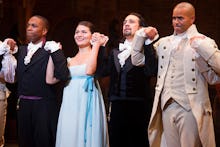 The New York Times has called it "bold, rousing, sexy, tear-jerking and historically respectful"; the Wall Street Journal named it "the best and most important Broadway musical of the past decade"; its soundtrack just received a Grammy nomination. Now the rest of the country will get to experience the hip-hop history firsthand: Hamilton is hitting the road, on a national tour in 2016, the musical's website announced.
"We are seeking excellent performers for our current Broadway company and upcoming national tours," the announcement read. Anyone who considers themselves to be "an extremely skilled rapper, singer and actor" is encouraged to audition.
Haven't heard of Hamilton? The hip-hop musical — based on a 2005 biography of Alexander Hamilton by historian Ron Chernow — follows the life and times of Hamilton, and debuted in New York's Public Theater for previews in January. On Aug. 6, it opened on Broadway at the Richard Rogers Theatre, where it continues to run sold-out shows. Tony Award and Genius grant winner Lin-Manuel Miranda created the show and stars as Hamilton, although the cast will change for non-New York performances. 
Here's everything we know about the national tour so far:
Where is it going? According to BroadwayWorld.com, Chicago is a definite stop, with open-ended performances set to begin on Sept. 27, 2016, at the PrivateBank Theatre.
BroadwayWorld reports that producer Jeffrey Seller stated his intention to run a replica of New York's Hamilton in Chicago. "My goal is as follows: to create the production that currently plays eight times a week at the Richard Rodgers Theatre exactly like it is at the Richard Rodgers Theatre here at the PrivateBank Theatre in Chicago," Sellers said in a press conference. "When we come here, it won't just be a tour. The entire creative team will come here, live here for a month to give this show the same tender loving care they gave it in New York." 
Vulture lists Los Angeles and San Francisco as other confirmed spots for "extended runs."
Tickets: Group tickets for Chicago shows can be purchased at BroadwayInChicago.com starting Jan. 5, Mashable reported.
No matter where the production travels, fans can look forward to the taped performance of the Tony Award-nominated Hamilton with New York's original cast.