James Deen Breaks His Silence on the Sexual Assault Allegations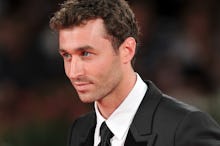 In an exclusive interview with the Daily Beast, published Tuesday and penned by former adult film star Aurora Snow, embattled porn star James Deen opens up about the sexual assault allegations that surround him. Nine women have now come forward with claims Deen sexually assaulted them, serious allegations for a man who Esquire once called the "Ryan Gosling of porn" for his boyish charm. 
When pressed about the very first allegation, which came in late November from adult film star and Deen's former romantic partner Stoya, Deen said he was "completely baffled."
"What I do know is that Stoya and I did not have a clean break up," Deen told the Daily Beast over email. "It was pretty messy, full of a lot of emotions and both Stoya and I are to blame for that."
"I have spent this past week terrified and confused, so I can't help but run through the details of our relationship in my head," he added. "The reason Stoya made this claim could be as simple as her finding out that my current girlfriend and I are moving in together."
In the wake of Stoya's allegations, and as other adult film stars such as Tori Lux and Ashley Fires began to come forward with accusations of their own, Deen refuted the claims via Twitter.
In the lengthy interview with the Daily Beast, Snow pressed Deen on each of the allegations against him. Each time, Deen refutes the claims of his accusers, saying the scenarios in question have been exaggerated and are being misrepresented in the media.
In some of the instances, Deen said it was other adult film stars who performed certain sexual assaults described. Or he claimed inconsistencies in his accusers' allegations. Several times, Deen pointed to footage from pornography to corroborate the fact that he has listened to his co-stars when they say no. 
"I know I sound like a broken record saying over and over again that things are inaccurate or untrue, but when there is photo or video evidence contradicting this stuff it is hard to not be a little defensive," Deen told the Daily Beast. 
One of Deen's accusers, Fires, previously described to the Daily Beast the incident at the communal showers at Kink Studios, a BDSM porn studio located in San Francisco, during which, she said, Deen sexually assaulted her. 
"In no way at all do I feel entitled to anyone's body on set," Deen told the Daily Beast when asked to comment on Fires' allegations. "Productions try to maintain a delicate balance of professionalism and fun. Most directors don't want to document sterile intercourse — they want to create erotic material. This cannot be achieved without comfortable models who have sexual desires for one another."
At the end of November, Kink Studios rescinded Deen's contract in response to the allegations. The porn production house explained its decision in a statement to SF Weekly:
Our performers deserve not only safe sets but the ability to work without fear of assault. Rape or sexual assault, with or without a safe-word, off-set or on, should never be accepted as a hazard of adult production. While many of the allegations against Deen are new, the pattern is alarming. Over the coming weeks and months, we will review our Model Bill of Rights to strengthen rights of performers off-set and work with the larger industry to help performers [who] have been assaulted to more easily come forward. 
"I know some people will understand me and what I'm saying, and some may be offended by it and say even worse things as a result," Deen concluded at the end of the Daily Beast interview. "We live in a world where accusations get great attention and no one really seems to want to get the truth."
At time of writing, Deen has not been formally charged with rape.