'Veep' HBO Season 5: Cast Info, Expected Release Date and Latest News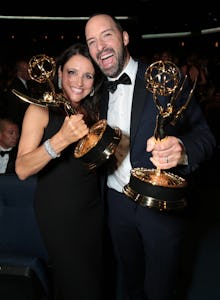 Julia Louis-Dreyfus will return to HBO as the hilariously self-centered vice-president-turned-president Selina Mayer for a fifth season of Veep in 2016, according to HBO Watch. David Mandel will take over as showrunner after the show's creator, Armando Iannucci, has departed. Here are the details that have emerged on the anticipated fifth season thus far:
The entire regular cast will return for the new season, HBO Watch reported, and Mandel will take over after Iannucci announced in April that he'd bounce after the fourth season. Mandel has been actively providing behind-the-scenes updates on the process of creating and filming season five through Twitter.
No specific date has been announced yet. The confirmed cast includes Julia Louis-Dreyfus, Tony Hale, Anna Chlumsky, Reid Scott, Matt Walsh, Timothy Simons, Sufe Bradshaw, Kevin Dunn, Gary Cole and Sam Richardson, HBO Watch reported.
Here's a behind-the-scenes look at some of the latest action for season five, courtesy of Mandel:
Veep and its cast have won a long list of awards since the first season premiered in 2012, including several Emmys and Screen Actor's Guild awards.