You Can Finally Listen to Prince's Lost Cover of Radiohead's "Creep"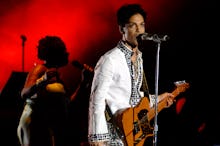 In 2008, Prince bestowed upon a Coachella audience a legendary cover Radiohead's breakout hit "Creep." The soulful rendition, complete with Prince's seductive squeaks and several guitar solos, was captured by several cameras. However, few ever got the chance to see the footage.
As a part of Prince's ongoing campaign to keep almost all his music off streaming services (save one), his team has attempted to pull down every recording posted since 2008. Yet for this particular video, Prince has been acting outside his jurisdiction. The copyright for the video doesn't actually belong to Prince — it belongs to Radiohead and the fans who recorded it. 
In a 2013 interview with Billboard, the band was asked about the cover and thought it was "hilarious," but they hadn't been able to actually see a version of it because every video was blocked. "Really? He's blocked it?" Thom Yorke asked. "Well, tell him to unblock it. It's our ... song."
The most recent poster of the video, Miles Hartl, begins his post with that quote, assuring audiences the song is posted with "permission from Radiohead." It seems that this time the video may stick. Prince even shared it himself, with a link to an NME article covering the story.
The world may now be able to enjoy the cover in all its glory. It's a good thing, too; Radiohead rarely plays their hit song live anymore.
Behold "Creep," the purple version: