George Washington University Asked a Student to Take Down His Palestinian Flag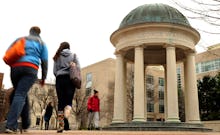 Today the most-discussed concerns about a loss of free expression in academia swirl around people feeling unable to defy the culture of the "new political correctness." But an incident regarding a Palestinian flag at George Washington University serves as a reminder that traditionally marginalized voices still face the same questions about vulnerability that they always have.
In October, Ramie Abounaja, a Palestinian-American pre-med undergraduate student at George Washington University, was asked to take down a Palestinian flag hanging from his dorm room window. In an interview with Mic, Abounaja said that a campus police officer came to his room and said the school "had received a number of complaints concerning your flag." According to Abounaja, the officer told him that "he'd leave once he saw the flag was down." He claims the officer also said that "he's never had to deal with something like this" during his career.
Abounaja received a warning letter from the university's Office of Student Rights and Responsibilities on Nov. 3 saying his flag violated community conduct guidelines.
"As a member of the larger residential community we hope that you will be respectful of your peers and be aware of your behavior," the letter read. "The act of an individual has a profound impact on the community." The office also warned that subsequent reports "may result in disciplinary action" by the university.
Abounaja said he found the incident mortifying and racially tinged.
"I felt like I was being singled out, because of my heritage and the viewpoint of my speech, for something I've seen dozens of students, fraternities and other student groups do in my three years at GW," he wrote in a letter to GW administrators recounting the incidents, provided by Palestine Legal, an American legal organization devoted to supporting Palestinian rights.
Under the guidance of Palestine Legal, Abounaja filed a complaint against the university and asked for a retraction of the warning and a public apology.
A university representative pointed Mic to a statement it released on Monday stating that Abounaja was asked to remove his flag because it violated a general policy of hanging objects from windows.
"The George Washington University is committed to fostering a welcoming and safe environment for every member of the GW community, and we encourage students to share their rich diversity of backgrounds, experiences and views with their peers," the statement said. "GW has not banned any flags from its campus; however, the university's Residential Community Conduct Guidelines prohibit the hanging of any object outside of a residence hall window."
Selective enforcement: The issue, however, is that there's reason to believe that the university isn't enforcing that rule consistently.
Abounaja said students regularly hang flags outside their residences with no interference from university officials. He shared a few photos with Mic documenting examples of flags and signs hanging from windows on campus:
The photos can't be taken alone as decisive evidence that the university isn't concerned with these possible violations, but it buttresses a few other points that raise questions about the university's decision to target the student. 
The community: A conversation on Monday on a student community Facebook group called Overheard at GW, which has nearly 13,000 members, contains a few examples of students saying they've been asked to take down American flags hanging from their windows in the past. But several students reported seeing many flags and banners around campus that technically violate the university's housing rule. A number of others also said that they personally have not had their own flags or banners ever removed by the university, and some suspect that the decision to remove Abounaja's Palestinian flag was politicized.
"The policy should be applied more evenly — don't bring geopolitical conflicts into the fire code," one student commented on the Facebook post.
The key detail that stands out in Abounaja's case is that he was told that the flag was being removed in response to "a number of complaints concerning your flag," as Abounaja recalled the officer said. The fact that university officials acted based on student objections suggests that the university wasn't primarily motivated by its institutional politics, but was likely nudged by the student community's ideological tendencies. George Washington is home to student groups that span the political spectrum, but the student body, which has an exceptionally large Jewish community, skews strongly pro-Israel.
The GW Hatchet, the university newspaper, reported that "several members of the Student Association Senate said at a meeting Monday night that they were not familiar with GW's policy on flags, but that they hoped to discuss with administrators how the policy could be implemented more evenly."
The takeaway: There isn't strong ground here to render the verdict that GW effectively banned the Palestinian flag on campus, as Palestine Legal alleges. But there's good reason to believe that this is a case of selective enforcement set into motion by political disagreement. And that selective enforcement isn't taking place in a vacuum but against the backdrop of a thoroughly documented national trend in which pro-Palestinian voices among faculty and students experience all kinds of discrimination and censorship in academia. 
The story sheds light on another dimension of the emerging trend of relying on university administrations as a tool for shifting the political climate on a college campus. These days at colleges like Yale University, that has resulted in increased administrative attentiveness to inclusion for marginalized voices on campus. But this incident is a small reminder that university administrations are not beholden to any specific group, and could potentially be directed in any political direction to maintain a variety of status quos.
Student activists across the political spectrum should think long and hard about how they want to change their world. It can be tempting to take measures to stifle other views when your own worldview is in vogue in your community. But when your views fall out of favor, that very precedent is what will hurt you most.