Laquan McDonald and the Shift That Called Chicago's Young Black Organizers to Action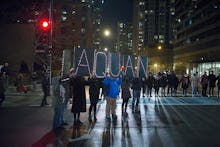 Hundreds of protesters marched through the streets of Chicago and gathered outside city hall Wednesday calling for Mayor Rahm Emanuel to resign. It was the latest demonstration in a series that has accelerated over the past two weeks — much of which has been spurred by the efforts of young black community organizers.
On Nov. 23, the day before Emanuel released video footage showing Chicago police Officer Jason Van Dyke shooting 17-year-old Laquan McDonald 16 times, a coalition of black community organizers penned a sharply worded statement.
Emanuel had reached out to a number of them — including the Black Youth Project 100, Fearless Leading by the Youth, Assata's Daughters, We Charge Genocide and Black Lives Matter: Chicago — and asked to meet to discuss the video before it was released.
All five organizations refused the invitation. "Young black organizers have declined the offer to meet with Rahm's administration to discuss the video," the statement read. "The mayor's office is calling on community 'leaders' to control black people's response to the execution recorded on the dashcam video to be released. It was important to deny this invitation to meet because we believe that the community has a right to respond as it sees fit."
The statement also mentioned Chicago's "history" of suppressing peaceful demonstrations with violence, and Emanuel's lackluster response to other issues facing black people in the city, like failing to adequately address a 34-day hunger strike by community members against the closure of Dyett High School on the South Side.
"Chicago has a long history of police violence and political corruption against the black communities." — Camesha Jones
Two weeks later, a lot has changed in Chicago. The video was released Nov. 24, sparking weeks of protests. Van Dyke was charged with murder by State's Attorney Anita Alvarez — after more than 13 months and allegations of an administrative cover-up reaching all the way back to Emanuel's re-election campaign.
Two more videos of possible police misconduct have also been released: those showing the 2014 shooting of Ronald Johnson III, and the 2012 jailhouse treatment of Philip Coleman, who died from a reaction to an antipsychotic medication at a hospital after being tased and dragged by officers.
Emanuel fired former police Supt. Garry McCarthy on Dec. 1, the same day he created a police accountability task force to address systemic issues in the Chicago Police Department. The U.S. Department of Justice has since launched an investigation into the department — a move Emanuel initially opposed, but later said he supported.
But amid all the changes, one element has stayed constant: Much of the civilian pressure and organizing around policing in Chicago over that time has come from black youth organizers. That pattern continues to this day. Mic recently interviewed Camesha Jones, communications co-chair for the Black Youth Project 100's Chicago chapter — an activist group that's played a key role in organizing protests and fostering leadership development among young people leading up to and during the current demonstrations.
She said they've been applying pressure for a long time — but the McDonald video caused a shift. 
"The biggest change that I have seen take place is a collective unity among the black community and grassroots organizers," Jones told Mic over email. "Many people felt a 'call to action' after the release of the Laquan McDonald tape. The people of Chicago know that something must be done to improve our city and prevent another life to be lost due to police violence and institutional violence."
When asked if she thought these groups made the right decision declining Emanuel's invitation to meet, Jones was resolute. "[We] made the correct decision to refuse a meeting with the mayor," she said. "BYP100 knows that Mayor Emanuel only wanted to meet with us for his own self-interest and to control our actions and righteous anger.
Emanuel "released the Laquan McDonald tape and fired former Superintendent Garry McCarthy because of the pressure from young black organizers and the collective Chicago community ... Emanuel's recent actions [including the accountability task force] are a small fraction of what needs to be done in Chicago to protect the lives of black people and hold corrupt public servants accountable."
Many vocal factions of Chicago's black community have expressed a loss of faith in Emanuel. The aforementioned shutdown of Dyett High School, the Homan Square detention facility and an ongoing crisis surrounding the city's public housing have only added fuel to the fire.
Many people "fail to understand that Laquan McDonald's murder by the police is not an isolated incident," Jones said. "Chicago has a long history of police violence and political corruption against the black communities ... Chicago is a very challenging place to organize and build collective power within the black community because of the omnipresent nature of political corruption, police violence and oppression."
"I think that Chicago elected leaders have some soul-searching to do about the decisions that they made and will have to make in the future." — Camesha Jones
In April, the same month the city paid McDonald's family $5 million to keep the video of McDonald's death under wraps, Chicago set aside $5.5 million to compensate victims of the Jon Burge scandal, in which the Chicago police commander and his cohorts routinely tortured and sexually abused black male arrestees in the 1970s, 1980s and into the 1990s.
The BYP100 and its affiliates want a complete revamp of how their city operates. BYP100's demands include a participatory budget that invests in black communities, schools and employment, marijuana decriminalization and "a fully independent civilian police accountability council with hiring, firing, subpoena and budgeting power" — one separate from the one founded by the mayor, which they call "insufficient and undemocratic."
And they believe it can happen. 
"There is always hope. Hope is what keeps black people involved in the movement for black lives going," Jones said. "We know that things will get better and will take some time. That is why we stay committed and diligent with our demands. I think that Chicago-elected leaders have some soul-searching to do about the decisions that they made and will have to make in the future. They have to choose what side to be on — and we hope they choose the freedom side."