Spotify Is Allowing Artists to Restrict Music From Free Service — Here's Why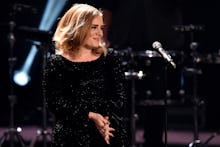 Taylor Swift, Adele and Coldplay have all withheld their albums from Spotify after the streaming service failed to restrict its free users from listening — but that's about to change with Spotify's upcoming policy, the Wall Street Journal reported Tuesday. 
According to the Journal, Spotify told music executives that it plans to only allow users that pay $10 a month for the premium version to stream the albums of "some artists." That means only 20 million of Spotify's 100 million users would likely be able to stream Swift's 1989, Adele's 25 and Coldplay's A Head Full of Dreams, as well as those of other big-name artists who choose to follow this trend in the future. 
The initiative will be a trial, the Wall Street Journal reported, while Spotify observes how it affects its subscription and usage rate. 
Until now, the streaming service has consistently defended its free service on the basis that it pays artists to provide their music to streamers for free. "Spotify has paid more than $2 billion to labels, publishers and collecting societies for distribution to songwriters and recording artists," Spotify CEO and founder Daniel Ek wrote in a blog post after Swift kept 1989 off Spotify in 2014 and removed her entire music repertoire from the service. "Our free service drives our paid service," Ek added in the blog post. 
Spotify's premium service costs $9.99 per month, on par with that of Apple Music, and provides subscribers with ad-free listening, unlimited skips and offline listening, among other things. 
Coldplay's new album A Head Full of Dreams should be available on Spotify for all users on Friday, Billboard reported, after it was released last week to iTunes and Apple Music. The band kept its last album, Ghost Stories, off Spotify for four months after its 2014 release. There's no word on what will happen with Swift's music or Adele's latest album in light of the upcoming change.