Is Lionsgate Planning a 'Hunger Games' Prequel? Here's Everything We Know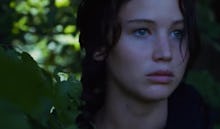 The final Hunger Games film, which is based on the dystopian trilogy authored by Suzanne Collins, hit theaters Nov. 20. Though the movie brought readers to the end of Collins' epic story, we may not have seen the end of the Hunger Games world, according to a comment from Michael Burns, vice chairman of Lionsgate, the production studio behind the Hunger Games movies.
During the UBS Global Media and Communications Conference, Burns alluded to — though did not confirm — the idea of making a prequel to the Hunger Games series.
"The one thing that kids say they missed was there was no arenas," Burns said, according to Deadline, speaking to investors at the UBS conference and referencing the lack of the fight-to-the-death arenas that appear earlier in the Hunger Games books and films, but not in the last and most recent film, The Hunger Games: Mockingjay Part 2.
"If we went backwards there obviously would be arenas," he added.
In a dedicated Reddit thread, some Hunger Games fans were thrilled to hear that producers had considered a prequel. "I would enjoy seeing how the world fell into this extreme dystopia," wrote one Reddit commentator. But other redditors weren't ready to welcome a Hunger Games prequel.
"No, just no," one wrote. "To me this screams nothing but a studio executive who knows nothing about the films simply trying to cash in on a profitable franchise to please investors."
"Because of previous prequels that shall remain unnamed, though I can say they came from a galaxy far far [a]way, I'm skeptical at best about Hunger Games prequels," wrote another. 
Only time will tell if another Hunger Games films is forthcoming. In the meantime, below is the trailer for the most recent installment, The Hunger Games: Mockingjay Part 2.
A Hunger Games prequel: real or not real?