Canada's Government Launches Inquiry Into Missing and Murdered Indigenous Women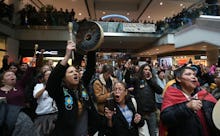 Canada's government announced Tuesday the launch of a national inquiry into the country's missing and murdered indigenous women and girls. 
The inquiry, which will start immediately, is slated to first engage survivors, their family members and First Nations leaders and representatives to determine its scope and logistics. 
"The Government of Canada believes that an inquiry into missing and murdered indigenous women and girls can only be designed after hearing from those directly affected," reads a statement on the government's website.
Preliminary questions will include who should lead the inquiry, who should be consulted, how long it should continue and what issues should be accounted for. The engagement process is expected to continue into 2016, at which point the government will release its findings and report on next steps.
The inquiry has been a long time coming. Indigenous women make up 4% of Canada's female population but 16% of all women who went missing or were murdered there between 1980 and 2012. The homicide rate for these women has remained relatively constant over that period, even as the non-aboriginal women's murder rate has declined, according to a report from the Royal Canadian Mounted Police. 
Indigenous women are also three times as likely to report experiencing violence than their non-indigenous peers. Advocates spent years pressuring former Canadian Prime Minister Stephen Harper to investigate the issue more aggressively, but Harper persistently balked.
"I think we should not view this as sociological phenomenon," Harper said in a controversial statement in August 2014, according to the CBC. "We should view it as crime. It is crime, against innocent people, and it needs to be addressed as such."
"[It] isn't really high on our radar," he added in a video interview with the CBC's Peter Mansbridge in December 2014.
The backlash has been relentless. From protests and artistic interventions to social media hashtags and freestyle rap performances, fervor surrounding Canada's missing and murdered indigenous women has galvanized a broad swath of the public, often transcending national borders, backgrounds and ethnicities.
Now, following the October election of Prime Minister Justin Trudeau — who previously called the issue a "national tragedy" — the Canadian government is finally taking a proactive stance. For the first time, justice and understanding around the deaths of women and girls like Loretta Saunders, Tina Fontaine and hundreds of others seem like tangible possibilities.