Jeffrey Dean Morgan Plays Negan in 'The Walking Dead' Season 6: Here's What We Know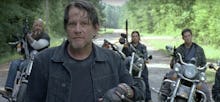 The sixth season of The Walking Dead is adding another character when the show returns in February, continuing from the Nov. 30 midseason finale. Jeffrey Dean Morgan, who stars on The Good Wife as Jason Crouse, will appear in the second half of the season as Negan, a vulgar, bat-slinging villain.
"A couple of years ago people started saying, 'Hey, man, you should be Negan in The Walking Dead,'" Morgan told Entertainment Weekly in an interview published Tuesday. "So I started reading the comic books just because I'm a fan and I love what [co-creator Robert] Kirkman is doing and so I was very aware of Negan and had read quite a bit of the comic books. So my agent and manager were on the phone and said, 'The Walking Dead have offered you this thing,' but they didn't have any information. They didn't know the character's name. It was all a big secret."
The sixth season of The Walking Dead isn't over just yet, but Entertainment Weekly hints Negan may become a staple on the show, as his introduction comes at the end of the current season. Morgan seems comfortable with his role in The Walking Dead crew as a permanent situation, telling EW, "Negan is special in a lot of ways and the more kind of digging I do into Negan, the more excited I get." 
"I can't tell you the last time I've been this giddy about doing a role," Morgan told EW. "I think what's there in the comic books and the graphic novels is this foundation of this man and the complexities of who he is. Every time I look at the graphic novel — which in the past few weeks next to my bedside I've just had stacks of Walking Dead stuff; and so when I'm not memorizing my Good Wife lines and trying to figure that out I'll just grab one of these things and look at it — and I will read and reread and see something different in it each time."
The Walking Dead returns to AMC on Sunday, Feb. 14 for its midseason premiere, according to International Business Times.