Watch Syrian Rebels Stage an Execution That Looks Like ISIS Propoganda — Until the End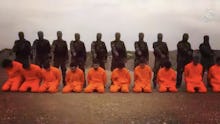 It's an ISIS-style execution video that will give you hope, not nightmares.
The Islamic State group is notorious for its gruesome beheadings and executions, the horrifying videos of which have gone viral in the worst way.
So when a video Syrian rebel group Levant Front hit the Internet allegedly showing 10 orange clad ISIS-affiliated prisoners lined up on their knees, a user's first inclination might have been to shut the laptop and walk away. But those who let the video play out noticed a shocking difference: Instead of pulling the trigger, the militia put away their guns, take off their masks and walk away.
The roughly eight-minute video contains individual interviews with the prisoners, and accompanying text revealing their name, place of origin, age and the position they held with ISIS. Many of the prisoners are teenagers.
The shackled prisoners are then lined up and led out to a barren landscape by masked men in military garb. They are walked past a table upon which is laid out a row of handguns. As each rebel escorts his prisoner past the table, he picks up a firearm.
The rebels then force the prisoners to their knees and, standing behind them, they aim their guns at the back of the prisoners' heads. 
It is then that "Muslims are not criminals" flashes across the screen. 
We see the rebels tuck away their guns and pull off their masks. It's a humanizing moment in what is a notoriously dehumanized process.
After the rebels leave, "a cleric in a white robe lectured the 10 ISIS prisoners, telling them to repent for their violent ways," writes the New York Daily News.
The Levant Front's video comes just days after the release of an alleged ISIS video that shows the double beheading of two men accused of sorcery in the Libyan capital of Tripoli. (Editor's note: This video contains disturbing footage. View with discretion.)