Who Went Home on 'The Voice' Season 9 Semifinals? Here Are the Final Contestants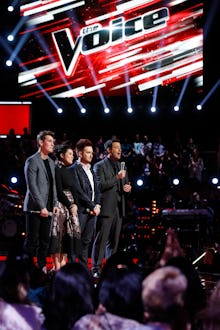 Tuesday night's five-person elimination round on NBC's The Voice left some in absolute disbelief of America's votes for which contestants will advance to the top four finale. The singers heading to next week's event are Team Adam Levine's Jordan Smith, Team Blake Shelton's Emily Ann Roberts and Barrett Baber and Team Gwen Stefani's Jeffery Austin, whose fiery rendition of Ed Sheeran's "Make It Rain" saved him from elimination in a Twitter save showdown.
The results mean Levine's Shelby Brown and Amy Vachal, Stefani's Braiden Sunshine and Pharrell Wililams' Madi Davis, and Shelton's Zach Seabaugh are all headed home after they didn't get enough votes.
It was an eventful night of surprises, with Dolly Parton as the week's mentor. She also performed Tuesday. TV Line's Michael Slezak, who was vehemently tweeting the hashtag #VoiceSaveJeffery on Tuesday night, wrote, "Part of me just wants to sit at the bottom of Dolly Parton's sheer pant leg and let her strum me into the calm, safe space I'm not sure I'll ever occupy after an hour so stressful I'm feeling like the warning label on a pharmaceutical ad — suffering from nausea, night terrors, sudden loss of blood pressure, spontaneous migraines, white knuckles, exploding brain and instant death."
It may be a tad dramatic, but Twitter users were expressing similar sentiments following Tuesday's results: 
The final four on The Voice take the stage Monday at 8 p.m.