Angela Merkel Was Just Named Time's Person of the Year — the First Woman in 29 Years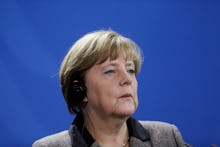 From the Greek debt crisis, to the refugee crisis, to terrorist threats, the European Union could have easily fallen into disarray this year. But these nations remained functioning thanks in no small part to the crucial work of one the leaders of the EU, who also happens to be one of the most powerful women in the world: Angela Merkel, who is now not only receiving recognition for this work, but also disrupting the status quo in doing so. 
On Wednesday, Merkel became the first woman in 29 years to be named Time magazine's Person of the Year, and the fourth woman ever granted the title to appear on the cover solo, joining Wallis Warfield Simpson, Queen Elizabeth II and Corazon Aquino, according to Today.
Her important work. For the first 35 years of her life, Merkel was one of 17 million residents held captive in East Germany. Less than 30 years later, the 61-year-old leader has been Chancellor of Germany for 10 years — and has made notable contributions to the nation and the global society in which it operates since taking office.
In the midst of the ongoing European refugee crisis, Merkel notably opened Germany's doors to hundreds of thousands of refugees, announcing in September that the nation will accept at least 500,000 asylum seekers a year, for several years, including as many as one million refugees this year alone. Merkel faced plenty of criticism from other European nations, many of which have refused to accept refugees, but she has defended her choice. 
"This impulse was the right one," she said in September, according to Bloomberg. It's a message she's consistently imparted over the course of her political career.
"Freedom is the very essence of our economy and society," she notably said in 2009, according to Spiegel. "Without freedom the human mind is prevented from unleashing its creative force."
Merkel, who helms the nation with the fourth largest economy in the world, has also demonstrated critical economic leadership in her contributions to the Greek debt crisis.
"In any great political crisis, there comes a moment when great leadership is required — the sort of leadership that prioritizes the general good over sectional interests, and that shapes events rather than reacting to them," John Cassidy observed in the New Yorker this summer. Merkel, he noted, was the very politician poised to accomplish just this in terms of the debt crisis — an affirmation others have echoed.
Time singled out the intrepid leader not only for these concrete choices, but also her conduct — specifically, "for asking more of her country than most politicians would dare, for standing firm against tyranny as well as expedience and for providing steadfast moral leadership in a world where it is in short supply," Time Managing Editor Nancy Gibbs wrote in a Time essay.
Much needed representation. Bestowing this title on Merkel not only individually acknowledges a powerful woman's work, but has broader implications for women the world over. Many have argued that representation is critical to encourage girls to pursue careers in male-dominated fields like politics. Studies show that media representation of women matters, and can even affect the self-conception of young girls in a very real way. 
It's also particularly crucial that Time is honoring one of the world's most powerful female politicians, given the underrepresentation of women in the field all over the world. Only 22% of all national lawmakers around the world were female as of August, and 17% of cabinet members were women as of January, according to United Nations Women. What's more, Merkel's particularly strong economic contributions echo previous research that shows women in positions of economic leadership benefit all, such as studies that have questioned if the global financial crisis would have happened had more women occupied economic leadership positions.
Seeing a powerful woman like Merkel not only given a highly visible, globally recognized honor, but particularly one that honors her capabilities and power, is a meaningful contribution to raising the next generation of girls to feel empowered to follow in her footsteps. As the Guardian reported, Merkel herself once said, "I've never underestimated myself, there's nothing wrong with being ambitious."
h/t Time