Need Proof That Models Influence Our Self-Esteem? Just Watch the Victoria's Secret Show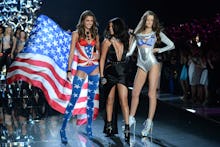 Every year, as the Victoria's Secret Fashion Show is broadcast on network TV and watched by more than 9 million people, the tweets start to roll in. And every year, these tweets — often posted by women — draw attention to how the show makes some of us really feel.
Sure, there are the hilarious, self-deprecating tweets that talk about the two tons of ice cream we're gonna eat while watching these lithe models strut their stuff in skimpy lingerie. 
And then there are tweets about seriously needing to go to the gym, using the Victoria's Secret show as a motivator. 
But what most of the lighthearted tweets seem to get at is what other tweets say explicitly: Watching the ultra-toned, ultra-fit models of the Victoria's Secret Fashion Show can make plenty of women feel like shit.
Plenty of ink has been spilled by opinion columnists and academics alike about how the endorsement of super thin bodies can be quite damaging. Seeing these idealized bodies can directly affect viewers' self-esteem, especially when they are being unendingly thrown in our faces.
According to the study "Defensive reactions to slim female images in advertising: The moderating role of mode of exposure," having seemingly "perfect" bodies constantly shown to us in subtle ways (like in pretty much every ad campaign and commercial in existence) is when we start to feel bad about ourselves and want to change our bodies to look like these thin bodies — not in order to get healthier. 
And seeing them affects how we feel. According to a study titled "Depleting Body Image: The effects of female magazine models on the self-esteem and body image of college-age women," fashion magazine models do tend to have a negative effect on a majority of women's self-esteem. "While magazine models do not affect all women, those who are affected indicate that it is detrimental to their body image and self-esteem," the study reported. 
The media isn't helping. That we see lingerie models as our benchmarks — ones to diet or exercise our way toward — isn't helped by the media either. The Internet is flooded with stories and quotes that remind us that we should aspire to be like these women. 
First are the fitness-themed articles, which often include interviews with models that ask, "What are you doing to get ready for the show?" which sets up the perfect opportunity to nit-pick how each of these girls works out. 
Then there are the diet articles, which give us a chance to read about (and take notes on) how each of these girls eats. A common spinoff: the all-too-common "this model is going to eat a burger once the show is over" headline, echoed by Stephen Colbert's recent buffalo wing-eating segment with Victoria's Secret Angels.
When women see these models eat food that they might eat regularly as well, questions like "Why don't I look like Gisele" can pop into their heads.
Models getting real: But the truth is, most of us will never be Victoria's Secret models. In fact, even the Victoria's Secret models don't usually look like they do on the runway. They hustle for weeks — working out, eating right, even getting their lips plumped — to get "runway ready," knowing themselves that their bodies will be judged. 
"There's nowhere to hide on that runway," said Candice Swanepoel during a taped segment of the show on Tuesday night.
If the tweets weren't enough, hearing it from the models themselves makes a strong case to put models of all different sizes, shapes and colors on the runway, so women can see models who look like them every once in a while and not feel so terrible.