Jeffery Austin's 'The Voice' YouTube Video: Watch His Save Performance of "Make It Rain"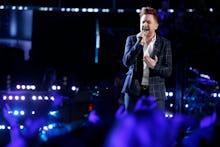 The Voice contestant Jeffery Austin sang an epic rendition of Ed Sheeran's "Make It Rain" to save his spot on the show Tuesday after he and two other contestants learned they were on the chopping block and only one could be saved based on a sudden-death performance. The NBC singing competition show sent five of the nine semifinalists home in an intense elimination round.
Austin, 24, was one of three contestants, along with 16-year-old Madi Davis and 17-year-old Zach Seabaugh, forced to perform to earn a spot in next week's finale. Austin received the most votes in a Twitter save with a powerful performance of "Make It Rain," a song written by Irish artist Foy Vance and made popular after Sheeran covered it for an episode of Sons of Anarchy in 2014.
Austin, a Chicago native, was unanimously praised by the coaches for his performance of Cher's "Believe" on Monday's semifinal. "I hope all three of my artists make it into the finale but you, Jeffery, just proved that you absolutely deserve to be in the finale," Blake Shelton said afterward. 
Still, Austin was on the brink of elimination Tuesday before he made it rain with his Sheeran cover. Austin will be one of the four contestants participating in the final round next Monday at 8 p.m. Eastern.
The Voice coach Gwen Stefani claimed Austin to her team for season 9 during his audition performance of Sam Smith's ballad "Lay Me Down" in September. "You have so much in that voice of yours, it's pretty amazing," Stefani said at the time.
Watch Austin's full performance of "Make It Rain" below: