Rowan Blanchard Has Some Thoughts About Feminism and #SquadGoals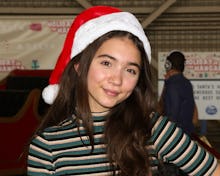 Rowan Blanchard, star of the Disney Channel show Girl Meets World, is 14 years old and feminist AF. She encourages girls to "recognize feminist issues." She listens to Beyoncé's anthem "Run the World" while running. And she once posted a viral essay on Tumblr about intersectional feminism that was praised by none other than Emma Watson.
And now, she has detonated a big ol' truth bomb re. #SquadGoals.
In a recent interview with Just Jared Jr., Blanchard extolled the feminist virtues of having a circle of close girlfriends, rather than an ever-expanding pack of BFFs. 
"Of course female friendship is a beautiful thing. It's insanely powerful," she said. "Sisterhood is something so valid and important when you are growing up that I literally think the essence of it should be taught in schools."
Now for the spicy twist!
"But the 'squads' we see in the media are very polarizing," she added. "Feminism and friendship are supposed to be inclusive, and most of these 'squads' are strictly exclusive."
Blanchard expanded on her thoughts later in the interview, saying that the #SquadGoals ethos makes feminism look "very one-dimensional."
"Feminism is so multilayered and complex that it can be frustrating when the media and the celebrities involved in it make feminism and 'squads' feel like this very happy, exclusive, perfect thing," she said. "There's so much more than that. 'Squad goals' can polarize anyone who is not white, thin, tall and always happy."
We have absolutely no idea who she could be talking about, but speculating on whether or not she's throwing shade directly at any particular pop star or squad is ultimately beside the point. What's important is that by adding to the growing arena of #SquadGoals backlash, Blanchard is coming out as a fan of all-inclusive female friendships — the impossibly gleeful, problem-free squads of Instagram be damned.
Clearly, this is one girl who is not just interested in meeting the world; she also wants to school it on how to be an awesome feminist. And we're totally here for it. Preach, sister!
Get the news everyone's talking about delivered straight to your inbox every morning by signing up for MicCheck Daily.