2016 SAG Awards: Full List of Nominees for 2016 Screen Actors Guild Awards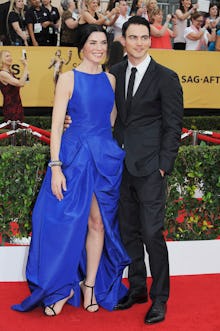 The 22nd annual Screen Actors Guild Awards is 52 days away, and event organizers released on Wednesday the nominees for the 2016 show. The two-hour event will air at 8 p.m. Eastern on Jan. 30 via TNT and TBS. Thirteen coveted awards will be handed out to film and TV actors. 
"One of the awards season's premier events, the SAG Awards annually celebrates the outstanding motion pictures and television performances from the previous calendar year," explained event organizers in a Wednesday press release. "Of the top industry honors presented to actors, only the SAG Awards are selected entirely by performers' peers in SAG-AFTRA. The SAG Awards was the first televised awards show to acknowledge the work of union members and the first to present awards to motion picture casts and television ensembles."
Anna Faris (Mom, The House Bunny) and Anthony Mackie (Captain America: The Winter Soldier, The Hurt Locker) announced the award nominees Wednesday morning in West Hollywood at the Pacific Design Center's SilverScreen Theater.
The nominees for actors in film and television are numerous, with categories such as outstanding performance by a male/female actor in a leading role, outstanding performance by a cast in a motion picture, outstanding performance by a male/female actor in a comedy series and outstanding performance by an ensemble in a drama series. In film, some of the movies with full casts up for awards include Beasts of No Nation, The Big Short, Spotlight, Straight Outta Compton and Trumbo. 
In television, whole casts of actors have been nominated in series such as The Big Band Theory, Key & Peele, Modern Family, Orange is the New Black, Transparent, Veep, Mad Men, House of Cards, Homeland, Game of Thrones and Downton Abbey. 
For a full list of actors up for awards, head here.
2015 recipients of a SAG award included Julianne Moore, J.K. Simmons, Viola Davis, Eddie Redmayne and Uzo Aduba.Downton Abbey won best ensemble in a drama series, and Orange Is the New Black took home best ensemble in a comedy series.