Watch Jennifer Hudson Perform "Push Da Button" From 'The Color Purple' on 'The Late Show'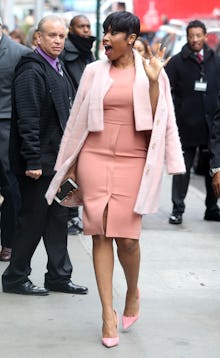 Jennifer Hudson is making her Broadway debut in The Color Purple, but on Tuesday night's episode of The Late Show with Stephen Colbert, she gave even those far from the Great White Way a taste of what she's serving.
The Oscar-winning actress and Grammy-winning singer performed her late act-one song "Push Da Button." In the number, Hudson slinks across the stage at Harpo's Juke Joint all while delivering her signature, deeply felt vocals. "Push Da Button" is particularly stage-driven, including some banter for Hudson to sensually speak to the other cast members during a dance break.
"Now ladies," she commands her fellow dancers. "I'm gonna need you to do some work."
The Color Purple is an adaptation of Alice Walker's seminal 1982 novel. Previously, Steven Spielberg revamped the source material into a film version starring Whoopi Goldberg and Oprah Winfrey. This is the second time The Color Purple's musical form has hit Broadway; the show first debuted in 2005. That production included, for a time, American Idol's Fantasia Barrino.
Hudson has been making the press rounds for this revival ahead of its opening later this week, including a performance with co-star Cynthia Erivo on Good Morning America in November.
The Color Purple, in previews now, opens on Broadway Thursday night. Watch the full Late Show performance below.