Craig Wright, Alleged Bitcoin Founder, Raided by Police — Here's What We Know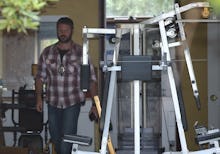 On Wednesday Australian Federal Police raided entrepreneur Chris Wright's properties shortly after recently leaked emails linked him and his late friend Dave Kleiman, an expert in computer forensics and U.S. Army veteran, to Bitcoin's development, according to Gizmodo. The police said it was an investigation by the Australian Taxation Office, not the recent media coverage, that led them to raid Wright's home, the Guardian reported.
The reported creator of Bitcoin has remained as abstract as the digital currency itself since its release in 2009, communicating under the pseudonym of Satoshi Nakamoto. 
An anonymous hacker revealed alleged email exchanges between Wright, who is reportedly heavily involved with Bitcoin businesses such as DeMorgan Ltd., and Kleiman and other business relations, a transcript of a confidential meeting between the Australian Tax Office and Wright, where Wright hints at creating Bitcoin, and an unfinished contract between Kleiman and Wright for a trust named the Tulip Trust, according to Wired.
Both men had strangely large Bitcoin accounts, according to Gizmodo.
In some emails, Wright's number is listed under Nakamoto's signature. Less subtle hints are Wright emailing Kleiman, "I have been working on a new form of electronic money. Bit cash, Bitcoin..." and later, "I cannot do the Satoshi bit anymore," according to Gizmodo.
The alleged contract between the two would have made Kleiman rich, Wired reported. But Kleiman, who was paralyzed from a 1995 motorcycle accident and died in his Florida home in 2013, was facing foreclosure, My Palm Beach Post reported.
Solving the mystery of the Bitcoin founder has been attempted before. In May, the New York Times took a stab at it by calling out Nick Szabo, who constantly denied the allegations. Last year, Newsweek claimed that it was a man actually named Satoshi Nakamoto but goes by Dorian. The article is now appended with a statement that it is not. 
After initial calls, most media attempts to reach Wright have failed, Gizmodo reported. His Twitter is now private.