Video Reveals the Real Heroes Behind All Those Perfect Insta Pics: Instagram Husbands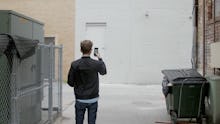 The only thing more popular than Instagram these days is anything that skewers how contrived Instagram is. The latest is a pretty dead-on video unveiling the real heroes behind all those perfect Insta-shots: the Instagram husbands.
"Behind every cute girl on Instagram is a guy like me," states one of the men in "Instagram Husband," a video shot by Mystery Hour, a comedy show in Springfield, Missouri.
Step by step, in the manner of a somber PSA, the Instagram husbands take down every cliched Instagram shot, while skewering just how posed they all are:
Yep, there's the overheard product shot; the ever-so-casual standing-on-your-chair food photo, the classic "shoe pic." Everyone knows that getting that perfectly effortless photograph actually takes effort; now, we know it actually takes the help of a doting — if begrudging — spouse. 
Sure, it's a little gendered (women aren't the only superficial ones on social media) and inadvertently cribs the concept from one of our favorite Inside Amy Schumer sketches, the 2013 "Sext Photographer." 
But as far as taking down Instagram's contrived, trite nature and the degree to which we'll go to make our own mundane lives look picture-perfect? 
Yeah, this video pretty much nails it.
Feel free to watch the entire, painfully accurate video here: 
h/t BuzzFeed