All-White Jury Deliberates for Third Day in Racially Charged Police Sexual Assault Trial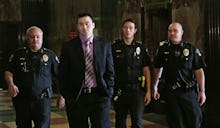 An Oklahoma County jury entered its third day of deliberations Wednesday in the trial of Daniel Holtzclaw, the former Oklahoma City Police officer charged with raping and sexually assaulting 13 black women and girls while on duty between 2011 and 2014.
A verdict is expected any day now. Kyle Schwab, a reporter with the Oklahoman, tweeted Tuesday that the all-white jury has deliberated "21 hours" since Monday, and was slated to resume at 9:30 a.m. Central Wednesday. 
The jury is considering 36 criminal counts that include stalking, sexual battery and first-degree rape — the latter of which comes with a potential sentence of life in prison. His alleged victims range in age from 17 to over 50.
One year and four months after a nationwide protest movement coalesced around police violence against black Americans — sparked by the Aug. 9, 2014 killing of 18-year-old Michael Brown in Ferguson, Missouri — Holtzclaw's trial has gone relatively unnoticed by the public.
Critics suggest the lack of scrutiny stems from a racial and gender gap in understanding police violence. "When we look at how police and state violence affects black women, it includes black women and girls getting killed," Charlene Carruthers, national director of the Black Youth Project 100, told Mic in May. "It also includes black women and girls being sexually assaulted, harassed and beaten by officers as well. We also must recognize other types of violence or else we miss parts of the population."
Although the racial implications of the accusations against Holtzclaw add a twist, his alleged conduct is not unique. The Associated Press revealed in November roughly 1,000 police officers were fired and barred from law enforcement between 2009 and 2014 due to sexual misconduct including rape, propositioning citizens for sex and possession of child pornography. Holtzclaw was fired from the department in January.
The 28-year-old's alleged crimes came to the attention of investigators on June 18, 2014, when a 57-year-old black grandmother, identified in reports only as "J.L.," was pulled over by Holtzclaw as she drove home from a dominoes game in Oklahoma City. According to BuzzFeed, Holtzclaw made J.L. bare her breasts and forced his penis into her mouth before driving away.
After J.L. and her daughter reported the incident to police that night, investigators began an inquiry that led to 12 other accusers coming forward, including a 17-year-old girl who said Holtzclaw raped her on her front porch after following her home. 
Most of the women were either addicted to drugs or had criminal records — factors that made them hesitant to approach the police with their complaints against Holtzclaw initially.
All 13 women have testified in court over the past month, according to CBS News. Much of the defense's case has relied on discrediting the accusers, citing their criminal records, histories of addiction and alleged inconsistencies in their testimonies. Closing arguments were heard Dec. 7 in front of a tightly packed courtroom, according to Patricia Santos, a reporter with KOCO TV in Oklahoma City.
Observers now anxiously await a verdict.