Here Are the Most Popular YouTube Videos of 2015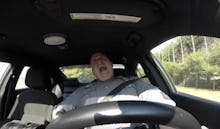 In the final stretch of the year, any number of platforms are curating end-of-year lists in a retrospective ode to 2015's best content. Among those list-makers is YouTube, and on Tuesday the digital video platform released a list of 2015's top trending videos from around the globe.
To curate the list, YouTube looked at a number of metrics beyond video views to judge which content in 2015 was most popular among viewers. "We looked at views, likes, shares, searches, parodies, remixes and responses to identify the 10 videos that everybody talked about in 2015," YouTube said in a brief intro to the list. 
Fair warning: This will derail your day.
In ascending order, here are 2015's top trending YouTube videos from around the world:
10. Mean Tweets — President Obama Edition ( over 34 million views)
9. Dover Police Dash Cam Confessional — "Shake It Off" ( over 37 million views)
8. Golden Boy Calum Scott Hits the Right Note, Audition Week 1 ( over 38 million views) 
7. Six-Foot Man in Six-Foot Giant Water Balloon — 4K (over 40 million views)
6. Justin Bieber Carpool Karaoke (over 43 million views)
5. Lip Sync Battle With Will Ferrell, Kevin Hart and Jimmy Fallon (over 54 million views)
4. Love Has No Labels — Diversity and Inclusion (over 55 million views)
3. Crazy Plastic Ball Prank!! (over 56 million views)
2. Clash of Clans: Revenge — Official Super Bowl TV Commercial (over 83 million views)
1. Silento - "Watch Me (Whip/Nae Nae)" #WatchMeDanceOn (over 115 million views)