Douglas Tompkins, North Face Founder, Dies in a Kayaking Accident — Here's What We Know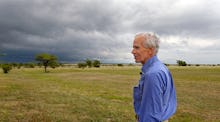 Douglas Tompkins, co-founder of clothing brands the North Face and Esprit, died Tuesday at age 72 after a kayaking accident on General Carrera Lake in Coyhaique, Chile, the New York Times reported. Tompkins, a longtime conservationist, founded the North Face, an outdoor and fitness clothing brand, in 1964.
"He flew airplanes, he climbed to the top of mountains all over the world," his daughter, Summer Tompkins Walker, told the New York Times. "To have lost his life in a lake and have nature just sort of gobble him up is just shocking."
How Tompkins died: Tompkins died of hypothermia, a medical condition that occurs when the body's temperature drops, after the kayak carrying him and five others capsized from strong waves. He was flown to a nearby hospital in a helicopter but had stopped breathing before he arrived, the BBC reported. The Coyhaique Regional Hospital confirmed his death.
The crew was rescued by military boats and Tompkins' companions were not seriously injured, the Times reported.
Conservationist: Tompkins was a noted conservationist, having founded the environmental charity organization Foundation for Deep Ecology in 1990 and the Conservation Land Trust, an organization to conserve land in Chile and Argentina, in 1992. "Doug was a passionate advocate for the environment, and his legacy of conservation will help ensure that there are outdoor spaces to be explored for generations to come," the North Face said in a statement to the Times.
A timeline of Tompkins' achievements in conservation can be found on his website.
Businessman: Tompkins founded the North Face with a partner in 1964 in San Francisco as a small ski and backpacking shop, the BBC reported. In 1968, he and his then wife Susie Tompkins Buell founded Esprit together.
"There wasn't anything we were afraid of, there wasn't anything we couldn't figure out how to do," Buell, who was married to him from 1964 to 1989, told the Times. "It was just an open book of adventure."
Efforts in Chile: Tompkins, who made billions through his business ventures, retired and moved to Chile in 1990 to focus on his conservation efforts there, according to the BBC — but the locals and natives of the area have cultivated conspiracy theories about his efforts, including that "Tompkins is creating a second Israel in South America; he is siphoning off the world's last freshwater resources for other American millionaires; he is building bunkers for a pending nuclear war," the Atlantic reported.
His wife, Kris McDivitt Tompkins, is the former CEO of the outdoor apparel brand Patagonia and the two are believed to have purchased more than 2 million acres of land in Chile and Argentina, the size of two Rhode Islands, to conserve, the Atlantic reported.