Did Adele Plagiarize on New Song "Million Years Ago"? Some Kurdish Listeners Believe It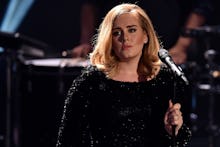 Adele's 25 shattered album sales records, topping the charts immediately after the British vocal powerhouse released it on Nov. 20. However, as the world revels in what fans consider an emotional candidness from the 27-year-old songwriter, some Kurdish listeners are saying Adele's "Million Years Ago" is actually a work of plagiarism.
Twitter didn't seem to know how to react when a flood of tweets came pouring in earlier this week from Turkey and the surrounding region, using the hashtag #AhmetKaya to shed light on the allegations. Critics say "Million Years Ago," a slow-paced melody off 25 in which Adele sings about returning to her hometown and feeling out of place and touch with those she once lived with, sounds all too similar to Kurdish singer Ahmet Kaya's "Acilara Tutunmak," which translates to "Clinging to Pain," according to the Independent. 
"I condemn Adele for stealing a song sung by Ahmet Kaya," one response from a Twitter user in Istanbul, loosely translated Wednesday, read. "What would happen if a singer from our country stole Adele's song? Let's think about it."
After reports Adele may or may not have plagiarized the tune to "Million Years Ago" from Kaya, people who have never heard of the beloved Kurdish singer from Malatya, Turkey, or his music immediately came to Adele's defense — or dragged her through the mud for ripping off another artist.
"I don't think Adele listened to Ahmet Kaya's song and copied it deliberately," Turkish music critic Naim Dilmener told the Independent. Both songs may have generic melodies, which is part of the reason Kaya's fans connected the two. Dilmener agreed "Acilara Tutunmak" is "an easy tune to figure out."
Kaya was a Kurdish artist who sang in both Kurdish and Turkish. A leader in the Turkish protest music movement, the singer-songwriter released nearly 20 albums before his death while living in exile in Paris on Nov. 16, 2000. According to Independent, his widow, Gülten, has since told the Turkish newspaper Posta she doesn't think Adele plagiarized her husband's work while recording "Million Years Ago," but if she did, she would consider it an act of theft. 
Listen to Adele perform "Million Years Ago" on NBC's Today below: