Here Are Some of Donald Trump's Middle East Business Ventures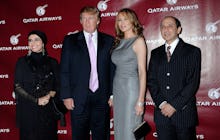 GOP presidential frontrunner and business mogul Donald Trump has come under fire from the media and prominent members of his own political party this week after he called for  "total and complete shutdown" of Muslim immigrants to the United States in light of the San Bernardino, California, shooting last Wednesday that was declared a terrorist attack.
Despite Trump's proposal, a fair amount of the billionaire's assets come from business ventures in the Middle East. 
In spite of Trump's proposed policy to ban all Muslims from entering the United States to prevent terrorism, his luxury real estate company, the Trump Organization, has a significant amount of real estate in the Middle East, and Qatar Airways rents space in a Trump tower for its New York headquarters.
Trump International Golf Club: Trump's International Golf Club conglomerate is close to completing a 7,205-yard golf course in Dubai, according to the website, which says it is scheduled for completion in 2015. The venue will feature a 30,000-square-foot, state-of-the-art clubhouse, which Trump wrote on the site "will be the largest of its kind in Dubai."
In light of Trump's comments, the Trump brand name was removed from the golf course on Thursday, USA Today reported.
Trump's United Arab Emirates business partners originally said on Tuesday that Trump's stance on Muslims in the U.S. won't affect the golf course deal. "We would like to stress that our agreement is with the Trump Organization as one of the premium golf course operators in the world, and as such we would not comment further on Mr. Trump's personal or political agenda, nor comment on the internal American political debate scene," Senior Vice President of DAMAC Properties, the location of Trump's Dubai golf course, Niall McLoughlin told CNN on Tuesday.
Trump Hotel Collection in the Middle East: Ivanka Trump, the business tycoon's daughter and executive vice president of development & acquisitions for the Trump Organization, told the Hotelier Middle East that the company's luxury line of hotels, Trump Hotel Collection, plans to build hotels in Dubai, Abu Dhabi, Qatar and Saudi Arabia in an exclusive interview in May.
"Dubai is a top priority city for us," Ivanka Trump said. "We are looking at multiple opportunities in Abu Dhabi, in Qatar, in Saudi Arabia, so those are the four areas where we are seeing the most interest. We haven't made a final decision in any of the markets but we have many very compelling deals in each of them."
Qatar Airways: The international airline Qatar Airways  has had a New York office in the Trump Tower on Fifth Avenue in Manhattan. The airline's logo is a variation of the state flag of Qatar and is based there, where Islamic law, or Sharia, serves as the governing legislation.
Listings for office space in the building start at almost $19,000 and can cost more than $106,000.
Trump was a guest at the airline's 2007 gala to celebrate flights to New York and posed for pictures with the company's CEO Akbar Al Baker.
Trump Home partnership in the Middle East: In February, the Dubai-based, Landmark Group-operated, retail brand Lifestyle announced that it would partner with Trump Home, the Trump Organization's line of home decor and furniture, exclusively in Kuwait, the United Arab Emirates, Saudi Arabia and Qatar.
"We chose to collaborate with Trump Home for an exclusive Middle East launch keeping in mind the growing demand of the region's style-conscious consumer's need for premium and bespoke brands," Lifestyle CEO Sachin Mundhwa told Arabian Business at the time.
The brand said Wednesday it was removing all Trump Home products from its inventory for "recent statements in the U.S. media," USA Today reported.
Dec. 10, 2:36 p.m. Eastern: This story has been updated to include statements from Trump Home partnership and Trump International Golf Club in Dubai.