Justin Bieber YouTube Video: Watch Biebs Sing Beatles' "Let It Be" During Purpose Show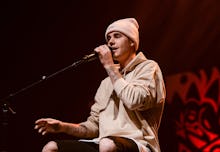 On Monday night, Justin Bieber performed a sold-out charity concert dubbed #PurposeInTO to 1,500 fans at Toronto's Danforth Music Hall, according to Insider Toronto. Proceeds went to the food bank Stratford House of Blessing, which Bieber's mother once used for support. 
"I think this is the best crowd I've ever been a part of," the 21-year-old Canadian singer said during the acoustic show, which sold out in minutes on Dec. 1, according to CBC. "I'm having a great time up here tonight." During the 85-minute-long show, Bieber covered Drake, Ne-Yo and the Beatles, Billboard reported.
Bieber's rendition of the Beatles' "Let It Be" is below:
At one point during the show, Bieber's younger brother, Jaxon, came onstage, Global News reported.
Bieber had just been in Tokyo and London in the days before to promote his Purpose album, according to Billboard. Purpose, which was released last month and features 19 songs, is Bieber's most recent album since his 2012's Believe. Included on the new LP is the song "What Do You Mean?," which started as No. 1 on the Billboard Hot 100. Bieber worked with Skrillex, Diplo and Ariana Grande on the latest LP. 
Bieber will also perform an extensive international tour for the album beginning in March of next year, Rolling Stone reported.