Wizarding World of Harry Potter at Universal Studios Hollywood: Photos, Video, Opening Day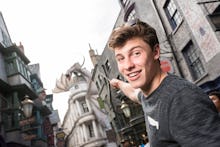 Now, the wizards and muggles headed to Hogwarts will have to walk the red carpet first. On Tuesday, Universal Studios Hollywood announced plans to open a Harry Potter-themed portion of the park on April 7, 2016, including the Hogwarts Castle, a "Town Wall" and several stores derived from the Potter franchise, as well as a number of other magical surprises, according to USA Today. 
"With the Los Angeles people especially, it's important to make this the perfect rendition of Harry Potter, a facsimile of the story and films," Alan Gilmore, supervising art director for the Harry Potter series who is helping launch the Wizarding World of Harry Potter in Universal Studios Hollywood, told USA Today. "So when people are within the park, they will be immersed in the story."
Rows of Scottish-style homes are covered in fake snow to give park-goers an experience similar to those of the wizards and muggles who ventured to the School of Witchcraft and Wizardry throughout the Harry Potter series.
According to USA Today, eight stores referenced at some point throughout the successful franchise's history, whether in books or on the silver screen, will be opening shop in Universal Studios Hollywood, including Honeydukes, Ollivanders Wand Shop and Filch's Emporium of Confiscated Goods.
Universal Studios Hollywood uploaded a video to YouTube in November, providing an inside look into what plans the park has for its latest addition. It's not the first Wizarding World of Harry Potter, either: The original Wizarding World of Harry Potter is in Orlando, Florida, where the theme park spans across Islands of Adventure and Universal Studios. Another world sits in Universal Studios Japan.
CGI images emerging are painting an exciting picture for anyone planning on visiting the Wizarding World of Harry Potter when it opens in April: