2 Gun Rights Groups Are Organizing a Fake Mass Shooting at the University of Texas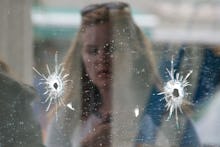 A pair of gun rights groups are planning a mock mass shooting on the University of Texas, Austin, campus this weekend to protest gun-free zones.
The Austin American-Statesman reports the Open Carry Walk and Crisis Performance Event will feature actors, fake blood, cardboard weapons and no prior permission or permit from the university or city government. It will also feature an armed march with real weapons outside the UT Austin campus.
Matthew Short, a spokesman for event organizers Come and Take It Texas and DontComply.com, told Mic that the weapons involved in the fake mass shooting would be "ridiculously" fake-looking and the event would actually be "really funny." He said that it was the groups' first demonstration of its kind.
Asked why his group did not seek prior permission from the university or city, he said, "I don't ever ask permission to act with my inalienable rights, which is my free speech and redress of grievances."
But in a statement issued to Mic, university spokesman J.B. Bird warned of potential consequences.
He wrote campus facilities and properties were not open to the general public but only "the university itself, faculty, staff and student groups ... Many groups seek to use the university's facilities each year and they are all treated equally and are turned away."
"When outside individuals come on campus and violate our rules regarding use of our grounds and facilities, they are asked to leave," Bird continued. "If they do not, it becomes a criminal trespass matter. We suggest that any outside organizations planning such events on campus relocate them to other space where they would be allowed."
For his part, Short said the plan is for the fake mass shooters to be taken out by fake vigilantes exercising their self-defense rights. He pointed to the fact that victims in recent mass shootings in Paris and San Bernardino, California, were unarmed.
"We want to help everybody understand that 95% of mass shootings take place in gun-free zones, and these are places where people cannot protect themselves," said Short.
"We take safety very, very seriously," he said, explaining that veterans and active-duty soldiers will offer security detail. But, he added, "I can't deal with other peoples' feelings. It's not my place to act according to their feelings. People get upset about the stupidest things."
The pro-gun activists, he said, want "crazy, messed-up-in-the-head people who want to use their religious extremism, or possibly they're on anti-depressants ... to fear an armed public."
On Aug. 1, 1966, the UT Austin campus was the scene of one of the country's first modern mass school shootings when engineering student and ex-Marine sharpshooter Charles Whitman climbed a clocktower with a small arsenal of weaponry and opened fire, killing 14 and wounding 32. The massacre ended after Whitman was gunned down by a police officer.
This past summer, the Texas state legislature and Gov. Greg Abbott approved Senate Bill 11, which will require state universities to allow concealed carry permit holders to bring firearms on campuses.
University of Texas System Chancellor William McRaven, a former Navy SEAL, opposed the law, which will go into effect on the 50th anniversary of the UT massacre.
The University of Texas at Austin Police Department declined to provide a statement to Mic.
Dec. 9, 2015, 5:17 p.m.: This article has been updated to include a statement from University of Texas at Austin spokesman J.B. Bird.