'The BFG' Trailer Is Live — Here's Everything We Know So Far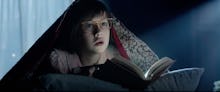 The BFG is coming to a big screen near you — a BFD for fans of the Roald Dahl tale. The trailer for the forthcoming Disney film — which comes from E.T. collaborators Steven Spielberg and Melissa Mathison and is slated for summer 2016 — was released on Wednesday morning.
In a press release (courtesy of SlashFilm), Walt Disney Studios chairman Alan Horn said, "With Steven Spielberg at the helm, The BFG will undoubtedly capture the minds of children and adults alike — as Roald Dahl's original stories and many of Steven's own films have done for decades." 
Here's everything we know about the film adaptation of The BFG: 
Cast and crew: The BFG is Spielberg-directed. Screenwriter Melissa Mathison — who died on Nov. 4 — adapted the classic Dahl story for film. BAFTA and Tony Award-winning British actor Mark Rylance (with whom Spielberg worked on Bridge of Spies) will voice the Big Friendly Giant, while Ruby Barnhill will play Sophie, the little girl he befriends. Other notables include Saturday Night Live star Bill Hader, who will play a giant and whose addition to the cast was announced in a Deadline exclusive in March, and Flight of the Conchords' Jemaine Clement. Downton Abbey's Penelope Wilson will play the Queen of England.
Release date: The BFG will be released July 1, 2016, in the United States and on July 22, 2016, in the U.K.
The Roald Dahl story: The BFG is a tale of unlikely friendship between the Big Friendly Giant and a little girl named Sophie, who first meet when a sleepless Sophie espies the giant tramping by her orphanage window late one night. The BFG is there to collect the dreams of sleeping "human beans," but when he peaks into Sophie's window and sees her awake, he scoops her out of bed and sprints her back to giant land, thus preventing her from outing him to the world of normal-sized, hostile men. The BFG reveals himself to be a gentle giant, an eater of repulsive Snozzcumbers rather than human flesh, which is the meal of choice for his more menacing counterparts, like the Bloodbottler, the Fleshlumpeater and the Bonecruncher. It is these giants that the BFG and Sophie resolve to bring down, enlisting the Queen in their fight to protect the people of England. Dahl published the book in 1982, and it was "recently voted amongst the top 10 children's books of the past 150 years," according to RoaldDahl.com. A cartoon adaptation was released in 1989.
The trailer was met with much excitement from the Twittersphere immediately upon release: 
Watch the teaser here: