Atlanta Commuters Were Treated to This Piece of Anti-Trump, Nazi-Inspired Art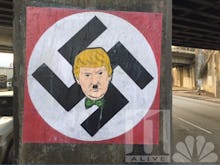 It was only a matter of time before someone went there.
At some point late Tuesday or early Wednesday, a street artist with a bone to pick posted an image of Republican presidential front-runner Donald Trump on top of a Nazi swastika along Atlanta's Buford Highway. The Donald's cartoonish likeness came replete with a Hitler mustache and a bow tie fashioned out of a $100 bill.
A second copy of the portrait appeared on a nearby bridge support. Atlanta police have since removed the images.
Trump recently called for all Muslims to be banned from entering the United States, spurring CNN host Chris Cuomo to ask Trump outright whether or not he is a "fascist."
Trump, of course, said no.
Still, Trump's exhaustive array of bigoted remarks on the campaign trail has earned him an army of enemies in high places, including Ohio Gov. John Kasich, who recently slammed Trump in a campaign ad, citing a line from Martin Niemöller's famous "First they came ..." poem about the Nazis. Echoing that sentiment was Tuesday's New York Daily News cover.
On the other hand, at least one expert on actual fascism thinks Trump falls short of the comparison. Cornell University history professor Isabel Hull recently told Vice, "My first reaction is that [Trump] is not principled enough to be a fascist."
As of this writing, the Donald had not commented on either the Atlanta artwork or the suggestion that he would sport a clip-on bowtie.