Veteran Chris Herbert Has a Message for People Who Think He's Anti-Muslim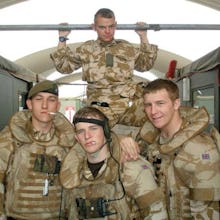 When Chris Herbert was approached by recruiters from an Islamophobic group, the British war veteran, who lost his right leg in Iraq at the age of 19, had a few choice words. In a lengthy post to Facebook, Herbert was elegant in his anger, which he directed toward anyone "expecting racism" from him for suffering an amputation in combat in the Middle East. Herbert's words struck a chord with his friends, who helped spread the post to viral levels.  
"Getting frustrated by some people expecting racism from me, because I got blown up," Herbert wrote in the post. "Here it is: Yes. A Muslim man blew me up, and I lost my leg. A Muslim man also lost his arm that day wearing a British uniform. A Muslim medic was in the helicopter that took me from the field. A Muslim surgeon performed the surgery that saved my life."
Herbert continues by highlighting some of the discriminatory acts he has faced living in Britain since returning from combat, including watching a stranger spit on and verbally assault his girlfriend for dating an amputee, at the hands of white brits, not Muslims.
Herbert lost his leg on duty in Basra, Iraq, the Telegraph reported in 2007, when, while on patrol, a roadside bomb detonated and decimated the vehicle he was riding in.
"Blaming all Muslims for the actions of groups like Daeshe and the Taliban is like blaming all Christians for the actions of the KKK or Westboro Baptist Church. Get a grip of your lives, hug your family and get back to work." — Chris Herbert
Heightened Islamophobia: Herbert's words come at a time of heightened racism against Muslims around the world, after the deadly attacks that shook Paris on Nov. 13 carried out by the Islamic State Group, or ISIS. Those attacks, which involved multiple targets and nearly 10 assailants, caused the deaths of at least 127 people. "It's gotten to a point now that the tone and tenor is worse than post-9/11," Khalid Latif, the director of the Islamic Center at New York University, recently told the New York Times. 
And matters have worsened. After two radicalized Muslim attackers opened fire at a social services center in San Bernardino, California, on Dec. 2, a deadly attack that took the lives of 14 victims, President Barack Obama addressed the nation from the Oval Office about the country's plan to destroy ISIS. Obama also touched on a need to fight Islamophobia, a message that didn't resonate with Republican presidential hopeful Donald Trump, who on Monday made a statement that suggested all Muslims should be barred from entering the U.S.  
Despite the racism that's ensued in the wake of the Paris and San Bernardino attacks, Herbert's post helped to voice what a lot of people are likely feeling around the world: frustration for those who are willing to distill an entire religious group down to the extremists and radicals who claim the same faith.