Chinese Censor: We Don't Have Censorship in [REDACTED]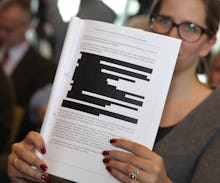 The claim: China does not censor the Internet.
The statement was made all the more so because it was spoken by the country's chief censor, Lu Wei, during a press conference in the lead up to next week's second World Internet Conference, to be held in Zhejiang. As operating chief of China's Central Leading Group for Internet Security and Informatization, Wei is essentially the gatekeeper of what Chinese Internet users see — and don't see — online. 
"It is a misuse of words if you say 'content censorship.' But no censorship does not mean there is no management," Wei told a CNN reporter, according to transcripts published by state-run news service Xinhua. "The Chinese government learnt how to manage the internet from Western developed countries, we have not learnt enough yet." The story was also reported by the Hong Kong Free Press. 
When asked how his claims squared with a country that openly blocks some of the world's largest websites, like Facebook, Twitter and YouTube, Wei offered a breezy analogy. "As for who comes to my home, indeed I have to [make sure] those who come are friends," he said. "We don't welcome those who earn China's money, take China's market, and then slander China."
The country also had a public spat with Google, forcing the search giant to relocate their servers to Hong Kong. Throughout 2014, Google search and Gmail were virtually inaccessible on the mainland without the assistance of a VPN. In the absence of these services, Chinese Internet users have come up with homegrown alternatives: Renren for Facebook, Weibo for Twitter, Youku for YouTube and Baidu for Google.
"The government has established certain rules to which all media, including Internet media, has to obey," an employee of China's state broadcaster, who wished to remain anonymous, told Mic. As a China Central Television employee, he is regularly responsible for disseminating government propaganda on a wide array of subjects. 
China's pervasive Internet "management" can also vary widely depending on who you are and where you live in the country. A number of state employees — like those who run the CCTV official Twitter and Facebook pages — are provided with VPNs paid for by the state to allow them full Internet access. Ethnic minorities, however, living in the country's restive western frontier often face considerably more "management" than most areas. In 2009, the entire region of Xinjiang, an area slightly larger than Iran, was taken offline for 10 months in the wake of deadly rioting in the region's capital.
Last month, the government cut off mobile service for residents of the same region who attempted to skirt Lu Wei's "management." With China's unprecedented economic and military growth over the last three decades, it's unlikely such management will let up anytime soon.