'The Legend of Tarzan' 2016 Cast: Alexander Skarsgård Photo Is Our First Look at New Film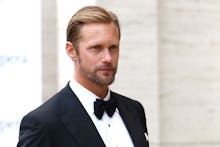 Alexander Skarsgård and Margot Robbie will be teaming up as Tarzan and Jane for a remake of Tarzan, hitting theaters July 1, 2016, USA Today reported. Named The Legend of Tarzan, the film will also feature Djimon Hounsou as Chief Mbonga, Samuel L. Jackson as George Washington Williams and Christoph Waltz as enemy Capt. Leon Rom, Cinema Blend reported. The film is directed by David Yates, who did the last four Harry Potter films.
Tarzan plot: Yates is setting the film in England in the 1880s, 10 years after an adult Tarzan, or more formally known as John Clayton III, and his wife, Jane, leave the Congo, Moviepilot reported. There'll be a historical element as well, revolving around colonialist King Leopold II from Belgium. 
"It's almost the opposite of the classic tale, where it's about taming the beast," Skarsgård told USA Today. "This is about a man who's holding back, and slowly as you peel off the layers, he reverts back to a more animalistic state and lets that side of his personality out."
Skarsgård spent four months in training to get into Tarzan shape, as well as worked with choreographer Wayne McGregor to work on his movements and posture.
A new Jane: Jane will also be getting revamped. Yates described her to USA Today as "no way a passive partner to Tarzan. She's a really strong, assertive, beautifully knowledgeable, very sexy modern woman who can more than look after herself."
Stuart Craig, also from the Harry Potter team, helped transform two English airplane hangars into jungle-esque soundstages featuring real foliage. 
Back in 1999, Disney released the animated Tarzan, which grossed over $171 million by February of 2000, according to IMDb.