iOS 9.2 Released — Here's How to Download and What Changes Are Coming to Apple's iPhones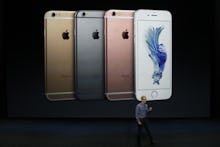 Apple is rolling out iOS 9.2 this week, the tech company's latest update to its iPhone software. The update contains a variety of improvements and will be especially useful to users who take frequent advantage of the smartphone's News and Apple Music features.
How to download the update: iPhone users can find the iOS 9.2 update by accessing their phone's Settings app. After opening the "general" tab, the second option available will be "software update," which allows users to read more about the changes and improvements that will happen if they choose to download the latest update. The process takes a few minutes, depending on a user's access to Wi-Fi and connectivity.
What's included in iOS 9.2: According to the message that reads after clicking open the software update, "This update contains improvements and bug fixes including: Apple Music improvements for making playlists, saving songs offline and browsing classical music. A new top stories section in News so you can stay up-to-date with the most important news of the day. Mail drop in Mail for sending large attachments." Other updates include resolves to some issues with small glitches throughout the Mail and Photo apps, as well as improved stability on Safari and Podcasts.
In the age of connectivity, Apple is making it simpler for users to access their content on multiple devices. Extreme Tech reported iPhone users can purchase Apple's Lightning to USB Camera Adapter for $29, which allows them to directly import photos with the iOS 9.2 software update, as well as enabling users to hook up third-party keyboards and microphones.
With the latest update rolling out to iPhones this week, avid news junkies will be asked whether they'd like to add Apple's new "top stories" section to their favorites when opening the News app using iOS 9.2. Apple Music also did some restructuring to its platform, allowing users to begin creating playlists immediately after selecting a song, as well as bringing the most recently changed playlists to the top of the streaming service.
iPhone updates generally provide solutions to small problems noticed by users, with a focus on improving speed and quality of app interfaces and efficiency. To some, the improvements found in iOS 9.2 may go unnoticed. However, to others, Apple's software update could make all the difference.