President Obama's Favorite Song of the Year Is Kendrick Lamar's "How Much a Dollar Cost"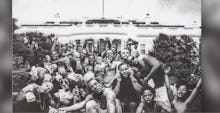 When it comes to music, Obama's good taste is well known. He's undoubtedly got the highest hip-hop IQ of any U.S. president, able to name drop luminaries like Nas and Lil Wayne and mock Kanye West without coming off as a complete herb. 
Wednesday, Obama offered the nation a glimpse at just how deep his hipness runs, when he revealed in a People interview his song of the year was a deep cut off Kendrick Lamar's To Pimp a Butterfly called "How Much a Dollar Cost." First Lady Michelle Obama, on the other hand, made a much more popular choice: Bruno Mars' "Uptown Funk."
"How Much a Dollar Cost" tells the story of Lamar being approached by a ragged-looking homeless man, whom Lamar assumes is a crack addict, asking him for a single dollar. Lamar denies him several times until the man reveals he's Jesus Christ in disguise, and Lamar finds out how much a dollar costs: "The price of having a spot in heaven."
The song is definitely one of the least controversial songs off of what is a deeply confrontational and political album, but it's a compelling choice for song of the year. It also likely means that Obama listened through the album in its entirety and may have heard his shout-out on "Hood Politics."
Listen to the POTUS' song of the year below.
Update: Kendrick Lamar responded to President Obama's choice for his song of the year Thursday in a video when approached by a TMZ cameraman. "That's great," he said.
The cameraman then followed up with a question about the song's meaning. "Should people really approach every opportunity like as a test?" the cameraman asked. "Like everyone you run into might really be God?"
Sagely, Lamar responded, "Help as many people as you can. You won't live for ever."
Read all of Mic's year-in-review coverage here.