How to Vote for 'The Voice' Season 9 Finale Contestants Online and in 'Voice' App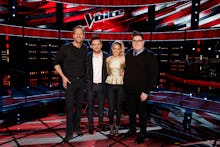 This season's crop of contestants on NBC's The Voice has been narrowed down to the final four, and next week an official winner will be crowned. The finalists include country singer and dad Barrett Baber and twangy teen Emily Ann Roberts, who both sing on Team Blake Shelton, Team Adam Levine's stellar belter Jordan Smith and Team Gwen Stefani's crooner Jeffrey Austin.
So how can devoted fans vote to make sure their favorite finalist goes all the way? The final performances will air live on Monday at 8 p.m. Eastern, and voting will be open from 9:55 p.m. Eastern on Monday to noon on Tuesday. The NBC website provides a complete chart of voting periods in different time zones.
Fans who are 13 and older can vote online, either on the Voice website using a Facebook login or directly on the show's Facebook page.
Viewers can also download the official Voice app and vote for their favorite that way. The app limits voters to 10 votes per artist per email address.