Celebrity Gun Violence Video: Amy Schumer, Sofia Vergara Join President Obama in New PSA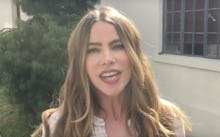 In the wake of the shooting in San Bernardino, California, that left 14 people dead, President Barack Obama and multiple celebrities joined with gun control advocacy group Everytown for Gun Safety to speak out against gun violence in a video released Wednesday. 
In the minute-and-a-half-long video, celebs such as Amy Schumer, Kevin Bacon, Nick Offerman and Sofia Vergara chant, "We can end gun violence." 
Everytown for Gun Safety campaigns for lawmakers to increase gun control policies, according to its website. 
Compared to other developed countries, Americans are 20 times more likely to be killed by guns, according to Everytown for Gun Safety. The San Bernardino shooting was the 355th mass shooting this year in the U.S.
To be featured on the website, people can record themselves saying, "We can," or, "End gun violence," and submit it to the organization.
The organization released a similar star-studded PSA video in 2012, which featured Beyoncé, Amy Poehler and Jessica Alba.