'Suicide Squad' Movie: Plot, Trailers, Cast Info and Spoilers for August 2016 Release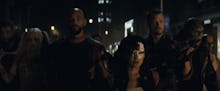 Comic fans are already gearing up for the highly anticipated Suicide Squad film to hit theaters in 2016. The movie has a scheduled release date of Aug. 5 and features some of Hollywood's biggest stars, playing some of DC's most evil characters.
Warner Bros. Pictures, the company producing the film, posted its first trailer for Suicide Squad to YouTube in July, providing a glimpse into the cast, plot details and more:
Plot: Though specific details surrounding the film haven't been released just yet, the DC comic book version centers on a pack of imprisoned super-villains bribed by the United States government into performing special missions. Also referred to as Task Force X, the group is recruited based on their skill sets for each particular mission, meaning there is some fluctuation in who is on the force. If the Suicide Squad successfully completes its assignment, the group is provided clemency for working with the government.
Cast: Suicide Squad enlists Margot Robbie as Harley Quinn, Ben Affleck as Bruce Wayne, Cara Delevingne as Enchantress, Jared Leto as the Joker, Will Smith as Deadshot, Jai Courtney as Captain Boomerang and Viola Davis as Amanda Waller. The star-studded list of actors is completed by the director of the film, David Ayer, who also wrote the comic series Suicide Squad is based on.
Warning: The following may include spoilers from the upcoming Suicide Squad film. While some think the Joker, played by Leto, will be the evil antagonist the group is designated to destroy throughout Suicide Squad, others are saying that might not be the case. 
Heroic Hollywood reports the super villain who might be the film's focus is Delevingne's Enchantress, whom the online publication says is hell-bent on resurrecting her brother from the dead. In doing so, however, Enchantress would essentially end life on Earth, causing Waller (Davis) to enlist the help of the Suicide Squad she puts together in the film. 
Another rumor comes from What Culture, which noted Leto's first picture from the set of Suicide Squad showed him as a shirtless Joker. The pop culture publication says this Joker will be a physically competitive force to be reckoned with by the likes of Batman and other heroes. Not to mention, this Joker could make use of Leto's body tattoos. 
According to What Culture, the Joker might also be responsible for creating Harley Quinn, the villainous character who once was an innocent Arkham Asylum psychiatrist. The publication cites a moment from the film's first trailer in which the Joker is seen holding a device possibly used to brainwash the woman into becoming the evil subservient she is throughout the Suicide Squad comic book series.