Keith Urban's 'Ripcord': Singles and Release Date for New Album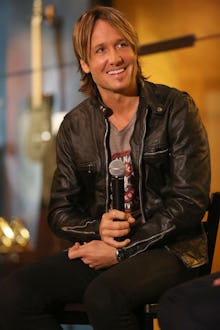 Keith Urban is set to release his eighth LP, titled Ripcord, sometime in 2016, according to Rolling Stone. The country singer has been slowly rolling out details and two singles so far from the follow-up to his 2013 Fuse.
"Ideally, I like to record them and get them fully finished, if that's 17, 18, 20 songs. I think songs tend to tell you which ones constitute a record. They feel right," Urban told Rolling Stone. "But obviously from my point too, I want to represent a particular theme. ... It's an odd thing. It's like describing a color. It's a bit elusive. I just let the music talk really. It's much better at it than I am."
The country singer first tweeted the name of the album back in October.
In February at the 2015 Country Radio Seminar, Urban performed the first single off the new album, titled "John Cougar, John Deere, John 3:16," the Boot reported. The song, which earned Urban a 2016 Grammy nomination, was co-written with Shane McAnally, who has worked with Kenny Chesney, Ross Copperman and Josh Osborne.
In October, Urban dropped Ripcord's second single, called "Break on Me," according to Rolling Stone. Copperman and John Nite helped co-write the song. 
Nile Rodgers of the band Chic worked with Urban to provide a more electronic beat, according to Yahoo. "While I was putting it together, I thought, 'You know, it needs to be a little bit more modern," Rodgers told Yahoo about one of the songs, called "Good Times."
Listen to the first single below: