Iggy Azalea Writes Open Letter to Erykah Badu: "Tell the Kids I'm a Big Fan of Mom"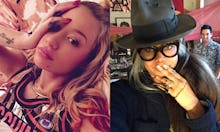 On Wednesday, Iggy Azalea issued yet another response to Erykah Badu's public criticism of her music during the 2015 Soul Train Music Awards a few weeks ago, this time managing to promote an upcoming tour. The Australian rapper invited Badu's children to her next concert after Badu's initial apology to Azalea during a Twitter question-and-answer session Dec. 1. 
"Hey Erykah," Azalea wrote in an open letter to Badu via Twitter. "Tell the kids I'm a big fan of mom, even if we don't agree where to file my music in their iTunes folders."
Badu more or less apologized to Azalea for the comments she made while hosting the 2015 Soul Train Awards during a the Twitter Q&A while promoting her recent mixtape, But You Cain't Use My Phone. However, it was far from a sincere apology — Badu started by acknowledging her kids are big fans of Azalea, then said in a video message posted online, "But when I really think about it, I mean, if y'all love her so much why don't y'all go be with her then?"
"Go on, be with her, y'all! ... Is Iggy Azalea gonna miss the healing seminar to go up to the school, sit across from the teacher so she can tell you that all y'all been doing is talking to your neighbor, not giving your lesson? Is she?" She asked. "Where's Iggy for that?"
"I'm gonna announce a new tour soon, if they do great in class there is officially an open invitation extended to them and friends with good report cards to come and enjoy a show anytime," Azalea continued in her second response to the R&B artist. She also referenced a joke made during the music awards program, when Badu answered a fake phone call from Azalea and invited her to the show, considering what she's doing in the industry "is definitely not rap."
"I am 100% a woman of my word, and I appreciate the apology," Azalea ended. The message of sticking to her word follows her decision to cancel her tour in 2015, as well as a LGBT pride performance in Pittsburgh after several LGBTQ activist groups found some words she posted online years ago to be considered very offensive, including a particular tweet where she wrote, "When guys whisper in each others' ears I always think its kinda homo."
Azalea initially responded to Badu's criticism on Twitter Dec. 1, writing, "We are days from 2016, but i came online today and saw it's still cool to try and discredit my 2014 accomplishments. LOL, fucking hell."