Melissa Rivers Plays Late Mom Joan Rivers in 'Joy' Starring Jennifer Lawrence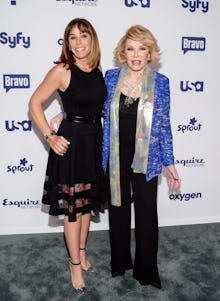 A Dec. 8 Entertainment Tonight exclusive gave viewers a sneak peek at Melissa Rivers in her first big film role, one that's emotionally charged. The actress will play her mother Joan Rivers, who passed away in Sept. 2014, in the upcoming film Joy, and in the words of People, she's "the spitting image of her late mother." Melissa Rivers stars alongside Jennifer Lawrence, who plays Miracle Mop-inventor Joy Mangano (who Curbed dubbed the "queen of informercials"). Watching the clip, Melissa Rivers "teared up," ET reports.
"I can't watch myself — especially like that," Melissa Rivers told ET. "I think I was so focused on the details and trying to do a good job that it never hit me that I took this crazy emotional risk until I got home and went, 'What did I just do?'"
Joy chronicles Mangano's rise to lynchpin of a home innovations empire. In the scene Entertainment Tonight aired, then-QVC retailer Rivers quips last-minute styling advice at Lawrence-as-Mangano before her appearance on the shopping network. Curbed labeled this QVC spot the one that launched Mangano's career, reporting that she sold more than 18,000 of her Miracle Mops in a mere 20 minutes. 
Joan Rivers knew a thing or two about QVC success. According to the Hollywood Reporter, comedian and actress Joan Rives began promoting her own fashion line on the network in 1990, when her late night show was canceled and she needed a new business venture.  Forbes reports that her line was valued at more than $1 billion following her death, although she didn't see many of those profits. 
A deeply personal part. Playing the role of her mother was an emotional choice for Melissa Rivers, although she told ET that her fellow cast members were "lovely and supportive," the leading lady reciting her favorite Joan Rivers jokes. "It was all very hush hush and top secret, and I went, 'OK,'" said Melissa Rivers in the ET interview. "In our family when they offer a job, we always joke the answer is, 'Yes, how much?'"
Joy hits theaters on Dec. 25 and stars Lawrence, Bradley Cooper and Robert DeNiro, among others. It is directed by David O. Russell of American Hustle fame.