50 Cent 'The Kanan Tape' New Mixtape Released — Here's the Track List and How to Download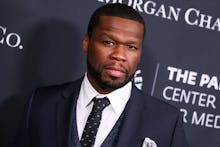 "Get Rich or Die Tryin'" rapper 50 Cent dropped his highly-anticipated mixtape The Kanan Tape on Wednesday after the it was originally set for a Thanksgiving release date, All Hip-Hop reported. The seven-track album features hip-hop artists Lil Boosie, Young Buck, Post Malone, and Sonny Digital.
Download the mixtape through Dat Piff. Here's the track list:
1. "Nigga Nigga" ft. Lil' Boosie & Young Buck
2. "Too Rich For The Bitch"
3. "Body Bags"
4. "Tryna Fuck Me Over ft. Post Malone"
5. "I'm The Man ft. Sonny Digital"
6. "Burner On Me"
7. "On Everything"
London on da Track, Alchemist, Sonny Digital, Scoop DeVille, !LLMIND, Bandplay, and Colt 45 produced the album, Vibe magazine reported.
Here's a preview of the music video for "Too Rich For The Bitch"
50 originally announced that he'd drop the album on Thanksgiving, but he waited an extra couple of weeks (because, well, he's 50 Cent). The Kanan Tape is 50's first album since Animal Ambition in 2014, which received less than 40,000 digital downloads in its first week, Vice reported, in what was considered a flop for the lucrative rapper.