Alleged Planned Parenthood Shooter Robert Dear Calls Himself a "Warrior for Babies"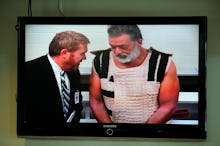 Robert L. Dear, the 57-year-old accused shooter in the attack on a Planned Parenthood in Colorado Springs, Colorado, on Nov. 27, gave the courts an irrefutable motive on Wednesday: anti-abortionist extremism. Speaking to the court, Dear said he was "guilty" and said there would be no trial because he is "a warrior for the babies," which elicited an outburst from those in the court.
Rick Sallinger, a reporter for CBS4 News in Denver, described the moment on Twitter:
Another reporter on the scene, Corey Hutchins of the Colorado Independent, confirmed Dear's outburst in a tweet.
According to the New York Times, Dear moved to Colorado from North Carolina, where he had lived in a small cabin devoid of electricity and running water. Speaking to the Star Tribune, John Hood, Dear's neighbor in Waterboro, Colorado, described Dear as someone worried about government surveillance. According to Hood, Dear would often skinny dip, hide food in the woods and offer "unsolicited advice" such as outfitting roofs with metal to avoid government spies, the Star Tribune reported. 
Dear is believed to have acted alone in the attacks, during which time he barricaded himself inside the Colorado Springs Planned Parenthood and engaged in a shootout with law enforcement officers responding to the scene. The bloody assault that ensued left three victims dead — 36-year-old mother of two Jennifer Markovsky, 44-year-old Garrett Swasey, an Officer for the University of Colorado at Colorado Springs, and Ke'Arre Stewart, a 29-year-old Iraq War veteran and father of two. 
"What happened in Colorado Springs was a horrific tragedy," said Vicki Cowart, CEO and President of Planned Parenthood of the Rocky Mountains, in a statement emailed to Mic on Wednesday. "Our focus now is on recovery and making sure this never happens again."
"We continue to provide high-quality, compassionate health care in a safe, supportive environment," Cowart continued in the statement. "Every day since this terrible tragedy, Planned Parenthood's doors have been open across Colorado, across our Rocky Mountain region, and across this country."
Dec. 9, 2015, 4:45 p.m. Eastern: This story has been updated.
Correction: Dec. 9, 2015