Here's How Adidas Plotted to Get Everyone to Wear One White Sneaker This Year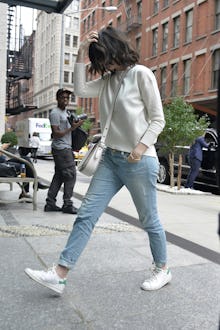 There will be many a year-end list about the top fashions of the year — the most buzzed-about designer collections, the new popular stores, the best red carpet looks.
But really, we know this year in style was defined by one shoe — a white sneaker, suddenly and inexplicably seen on the feet of everyone cool you know.
But the fact that every hip girl and her brother were wearing Adidas Stan Smiths this year isn't actually that inexplicable. In fact, there's a simple explanation for it. Jon Wexler, the global director of Entertainment and Influencer Marketing at Adidas, broke down the plot in a talk this week at the speaker series OPEN Portland.
The sneaker has been around since 1964 and is named for the tennis champ Stan Smith, who won two Grand Slam singles titles in the 1970s. In 1972, the sneaker was officially christened with Smith's name and eventually his face, his image printed on the tongue of the shoe. According to Adidas, more than 40 million pairs of Stan Smiths have been sold since that era.
So how did Adidas take a shoe that had been around for basically ever and make it incredibly coveted? "We had to actually start three years in advance," Wexler said.
Step 1: Clear the marketplace. 
"First, we cleaned out the market," said Wexler. That meant making sure they stopped sending new ones to stores so eventually, the supply would run out. As Adidas states on its website, the Stan Smith was "removed from the shelves for the past few seasons." 
Step 2: Subtly reintroduce it through one designer's fashion show.
"Then, to reinitiate it back into the marketplace," said Wexler, "Phoebe Philo wanted product to put on her runway models, and we knew that she was a big fan of the shoe." 
Philo is the creative director of Céline, a high-end French brand that has one of the most talked-about shows every Paris Fashion Week. Her style is minimalist and not overly feminine, and sporty plain sneakers fit the bill. 
Sure enough, it got the fashion crowd talking.
Step 3: Get celebrities wearing it.
"Six months later, we rolled out versions of the shoe that had people's faces on the tongue like A$AP Rocky, Jeremy Scott, etc., and we just gave the shoes to them," said Wexler. "We shot everyone from Will Arnett to Stan himself, in the shoe."
That included Ellen DeGeneres, who introduced the customized shoes into her regular white sneaker rotation and shared them on Instagram. From there, it spiraled out with more celebrities.
Step 4: Release a limited batch to the public.
Adidas went wide with it in January 2014. "We finally released it in limited quantities, in special iterations, at the top and then the retail food chain," said Wexler. "And meanwhile, the shoe that everyone wanted was the original, white and green Stan Smith."
That meant fashion bloggers were all over them, as were "real" people, who bought Adidas sneakers en masse. Adidas worked to make sure it was covetable to every demographic, Wexler said:
Phoebe taking that shoe and putting it in the fashion sort of context made it palatable to women. The male consumer was always on the shoe, there was never a time that men, there wasn't a time ever that males didn't like the shoe. And we shot everyone from Will Arnett to Stan himself, in the shoe — A$AP Rocky, etc. The Stan was like female-friendly, male--friendly, every age demo, and then we released it in more broad quantities and retailers so people could actually get it.
Step 5: Let the people go crazy for it.
The plan worked: According to last month's Teen Vogue and Goldman Sachs' Annual Brand Affinity Index Research Findings, which measures the preferences of female fashion influencers ages 13-29, Adidas jumped into the list of Top 50 Brands for the first time. In fact, Adidas showed the largest "gain in affinity" in 2015 than any other brand in the survey.
It helps immensely that the reigning fashion aesthetic of the past two years has been what New York magazine helped dub "normcore" — an embrace of classic, inexpensive, "ardently ordinary" clothes that channel an IDGAF, comfort-over-style vibe. 
The key pieces of the "normcore" look — light, loose jeans; crew neck sweatshirts; white socks; and plain white sneakers — have emanated out, each becoming their own mainstream fashion trends. And thanks to Adidas, Stan Smiths have emerged as THE plain white sneaker to have, the foundation of the whole look.
But the rise of the Stan Smith was no whim of fashion. "We took it through every single channel of communication that you could possibly take it through," said Wexler. It's a validation of what Miranda Priestly always said: What we wear was selected for us, by the people in one room, from a pile of stuff.
Watch Wexler's full explanation in the video below: