Bernie Sanders Posts Double-Digit Lead in Latest New Hampshire Poll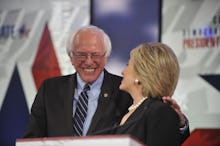 Former Secretary of State Hillary Clinton has moved into a comfortable lead in Iowa, which kicks off the presidential nominating contests with its Feb. 1 caucuses, but New Hampshire remains Sanders Country.
A CNN/WMUR poll released Wednesday found that Sen. Bernie Sanders (I-Vt.) leads Clinton by a 10-point margin among likely Democratic primary voters, taking 50% to Clinton's 40%. Former Maryland Gov. Martin O'Malley garnered just 1% support.
While this is the first CNN poll to show Sanders reaching the crucial 50% threshold in the Granite State, the size of his lead has shrunk since its last survey of the state. In September, CNN found Sanders ahead by a 16-point margin, 46% to 30%. 
Sanders bests Clinton on several key metrics. By 54% to 32%, likely Democratic primary voters identify the democratic socialist as the candidate best-equipped to take on big banks, and voters also say Sanders is the best candidate to handle income inequality, by a 61% to 33% margin. Even on guns — an area where Sanders has faced heat for opposing gun control policies in the past — voters say by 43% to 34% that they view Sanders as the strongest candidate. 
Still, Clinton, who boasts a four-year record as the nation's top diplomat, is seen as best able to handle the threat from the Islamic State terrorist group, also known as ISIS. By 58% to 25%, voters most trust Clinton in this area. Sanders has often appeared ill at ease in discussing foreign policy and national security issues; just this week, his spokeswoman instructed reporters at a Baltimore press conference not to ask any questions about ISIS. 
What's more, likely primary voters, by a 70% to 17% margin, say they regard Clinton as the most viable general election candidate. 
And while Sanders has led or tied Clinton in most New Hampshire polls since the late summer, Democratic voters there still think Clinton is most likely to win the Feb. 9 primary. Fifty-nine percent picked Clinton as the most likely winner, compared to just 28% for Sanders. In September, voters split on the question, with 42% picking Clinton and Sanders each.
It's not an unreasonable shift.
Though Sanders had pulled close to Clinton in late-summer Iowa polls, recent surveys show her back on top in the Hawkeye State. A CNN poll released Tuesday gave her a 54% to 36% lead over Sanders in Iowa, a commanding lead with less than two months until the caucuses. Should Clinton win Iowa by an overwhelming margin, her momentum may well blunt Sanders' New Hampshire support.