Best Places to Work 2016: Top Companies Based on Employee Ratings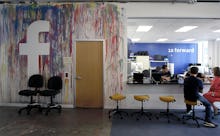 Job-search site Glassdoor.com released its annual list of the top 50 "Best Places to Work" and there are some surprises in the rankings for 2016: Last year's winner, Google, was dethroned by relative newcomer AirBnB.
The rankings are, according to Glassdoor, "determined using feedback employees have shared ... throughout the past year." Employees can use Glassdoor to rate the companies they work for in categories like "Culture & Values" and "Work/Life Balance."
Management consulting firm Bain & Company took second place in this year's list; Guidewire, Hubspot and Facebook rounded out the top five. Google, which boasts workplace perks like free exercise classes and on-site massages, fell to the eighth slot on Glassdoor's list.
The top 50 list isn't all cool-kid start-ups and consulting firms — Delta Air Lines, GE Aviation and The Church of Jesus Christ of Latter-Day Saints (aka the Mormon Church) also made the cut.
Glassdoor's full-list of the 50 Best Places to Work 2016 is available here.