Iggy Azalea 'Digital Distortion': 2016 Release Date and Latest Info on New Album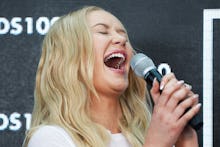 Australian rapper Iggy Azalea has been no stranger to controversy: She canceled her Great Escape arena tour before it even started, canceled a Pride performance and has a brand-new beef with Erykah Badu.
Despite the bumps in the road, Azalea is blazing forward and is reportedly set to release a new album in 2016. Her second album, a follow-up to her 2014 debut The New Classic, will be titled Digital Distortion, Azalea announced on Twitter in October and will arrive sometime in 2016.
There's no official release date set yet for Digital Distortion, but Azalea has hinted on Twitter a lead single will drop soon, and that so far, there are no big names officially signed on to collaborate on the album, MTV reported.
Friends and foes alike still have a while to prepare before Digital Distortion arrives, but Azalea tweeted Dec. 1 it's pretty much "finished."