Muhammad Ali Takes a Jab at Donald Trump Over His Statement on Muslim Immigrants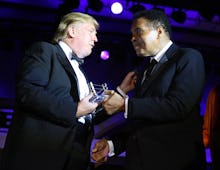 The Greatest has spoken, and it turns out he's still got that sting.
In a statement to NBC News, boxing legend and devout Muslim Muhammad Ali denounced Donald Trump's recent call for "a total and complete shutdown" of Muslims entering the United States.
While Ali did not explicitly mention the presidential candidate's name, NBC reports that the statement was titled "Presidential Candidates Proposing to Ban Muslim Immigration to the United States."
"We as Muslims have to stand up to those who use Islam to advance their own personal agenda," wrote the boxer. "They have alienated many from learning about Islam. True Muslims know or should know that it goes against our religion to try and force Islam on anybody."
Ali also denounced the Islamic State group and the terrorist violence it has inspired. "I am a Muslim and there is nothing Islamic about killing innocent people in Paris, San Bernardino, or anywhere else in the world," he said. "True Muslims know that the ruthless violence of so called Islamic Jihadists goes against the very tenets of our religion."
Despite Trump declaring "I love the Muslims" in September, he's been on the hot seat after his call for a moratorium on Muslims seeking entry into the U.S. He subsequently clarified that the measures would be temporary and apply only to non-citizens. Still, the idea sparked global, bipartisan condemnation and even a petition to ban him from the United Kingdom.
While live-tweeting President Barack Obama's brief remarks from the Oval Office Sunday night, Trump cast doubt on the president's claim that Muslims could be found among the nation's athletes. Many online reminded him of figures like Ali as well as NBA legends Kareem Abdul Jabbar and Shaquille O'Neal. The claim was doubly surprising given it was just this past May that Trump posted a throwback pic of him and Ali, calling the athlete "my friend."
The furor comes as Trump's hold over the Republican race is at its strongest. Despite some evidence earlier this week that he could be slipping to Ted Cruz, the overwhelming majority of state and national polls have continue to place the billionaire at the top of the heap. A New York Times/CBS News nationwide poll released Thursday morning showed Trump with 35% of the Republican vote, more than double his nearest rival, Ted Cruz, who stood at 16%. Previous Trump runners-up like Ben Carson and Jeb Bush were further behind.
While Ali is known best for his over two decades mesmerizing boxing fans and opponents with his grace and impossibly quick feet, at his peak he drew equal amounts of attention for his outspokenness, frequently on issues regarding his faith. As he continues his battle with Parkinson's Disease, statements from the 73-year-old are becoming more and more rare.
Unlike many of the candidate's other ideas, which would presumably have to be upheld by the Supreme Court, there is wide consensus among experts that if Trump could get a bill to bar foreign Muslims through Congress, it could very well be found Constitutional under past immigration precedent. 
Get the news everyone's talking about delivered straight to your inbox every morning by signing up for MicCheck Daily.