Donald Trump Crushes Republican Rivals in Brand-New Poll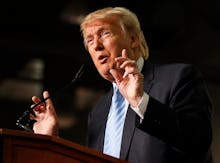 "I. Will. Never. Leave. This. Race."
So proclaimed a defiant Donald Trump to the Washington Post this week. And why should he quit? Six months after entering the 2016 presidential contest with characteristic bombast, Trump remains comfortably atop the GOP field. Indeed, some surveys suggest he's stronger than ever.
According to a New York Times/CBS News poll released Thursday morning, Trump boasts a 19-percentage-point lead over Sen. Ted Cruz (R-Texas), his closest primary rival. Trump notches 35% in the poll, followed by Cruz at 16%, retired neurosurgeon Ben Carson at 13%, Sen. Marco Rubio (R-Fla.) at 9% and former front-runner Jeb Bush at just 3%.
Those results dovetail with a CNN/Opinion Research Corp. survey released last week, which found Trump at 36% support, with Cruz at 16%, Carson at 14% and Rubio at 12%. Bush also registered just 3% support in the CNN poll, just behind New Jersey Gov. Chris Christie, who garnered 4% support. The survey marked Trump's best national poll since launching his bid.
Riding a wave of Islamophobia: Trump's numbers may yet ascend higher. A Bloomberg Politics/Purple Strategies survey unveiled Wednesday found that 2 in 3 GOP voters back Trump's proposal for a "total and complete" ban on Muslims entering the United States. The Times/CBS poll was conducted between Dec. 4 and Dec. 8; Trump rolled out his draconian proposal on Monday, Dec. 7.
While Trump has captivated a hefty portion of the GOP's older, white base, the country at large views the prospect of a Trump presidency with alarm. Twenty-four percent of voters overall told the Times/CBS pollsters they were concerned about Trump administration, on top of 41% who said they felt downright afraid. Meanwhile, 23% of voters were concerned and 34% were afraid for the country if Democratic front-runner Hillary Clinton took the oath.that Clinton leads top rival Sen. Bernie Sanders (I-Vt.) by 20 percentage points in their contest, 52% to 32%.
In it to win it? The Times/CBS poll follows a series of polls showing Trump maintaining his strength in the early voting states, less than two months before the Iowa caucuses commence the nominating process Feb. 1. 
Although a Monmouth University poll released this week showed Cruz, a favorite of evangelical Christians, moving into a 5-point lead in Iowa, a CNN poll showed Trump still dominant, taking 33% to Cruz's 20%. In New Hampshire, Trump enjoys a 32% to 14% lead over runner-up Rubio, per a CNN/WMUR poll released Tuesday. And while Politico noted Wednesday that evangelicals in South Carolina are beginning to rally around Cruz, a Fox News poll Wednesday showed Trump decisively ahead, taking 35%, followed by Carson at 15% and Rubio and Cruz at 14%. 
The prospect that Trump could win it all has establishment Republicans increasingly nervous. This week, billionaire Bush backer Mike Fernandez took out full-page newspaper ads slamming Trump, and Fernandez says he'll also air an anti-Trump ad during the next GOP debate on Dec. 15. But previous advertising blitzes by Trump's opponents, including a $1 million television spree by the conservative Club for Growth, have failed to derail his campaign.